Use the Roadmap view to get a long-term view of your projects, better align management and teams on the path forward and communicate decisions to the organization.
Where to Find
In the left-hand sidebar, click Roadmap to open the view: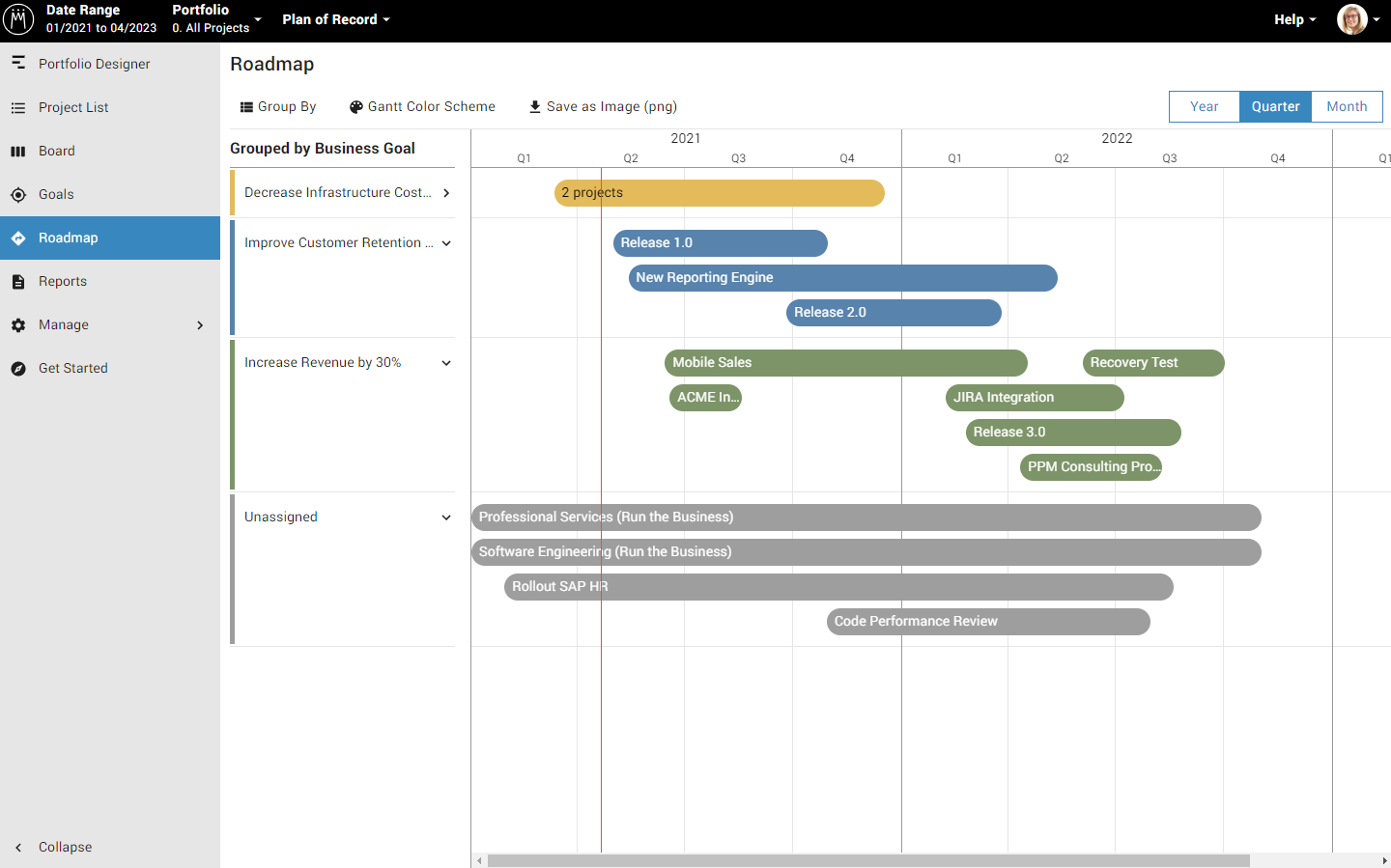 You can choose how projects are grouped on the timeline by clicking Group By and selecting an option. You can select from the following project fields:
Within the groups, the project are sorted by their start date and, if necessary, by their length.
You can color projects on the Gantt chart based on a second grouping by clicking Gantt Color Scheme and selecting an option. You can choose colors based on any project field of the lookup type as well as by the field selected under Group by.
To see the individual projects, click the bar in the timeline or the arrow next to the respective value: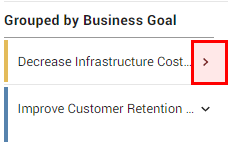 To edit a project's details, simply click on the bar it is associated with in the timeline.
To update the number of projects shown, select Date Range, Portfolio or Scenario in the header at the top of your screen. Below the header on the right, you can select between the zoom levels Year, Quarter or Month. The Roadmap shows only projects above the Cut-Off line.
Click Save as Image (png) to download your customized roadmap as an image file. The Roadmap's configuration is user-specific and will remain the way it was configured even when the user logs out.
How to Use
The Roadmap is a great way of providing a high-level view of the company's path forward with the entire organization. Here's a few ideas on how you can leverage it:
Present Your Plan to Management
Whether it's the current status or next steps, management wants the big picture and Meisterplan's Roadmap helps you provide just that. Show at a glance what progress has been made towards achieving your company's strategic goals and what you propose as the way forward.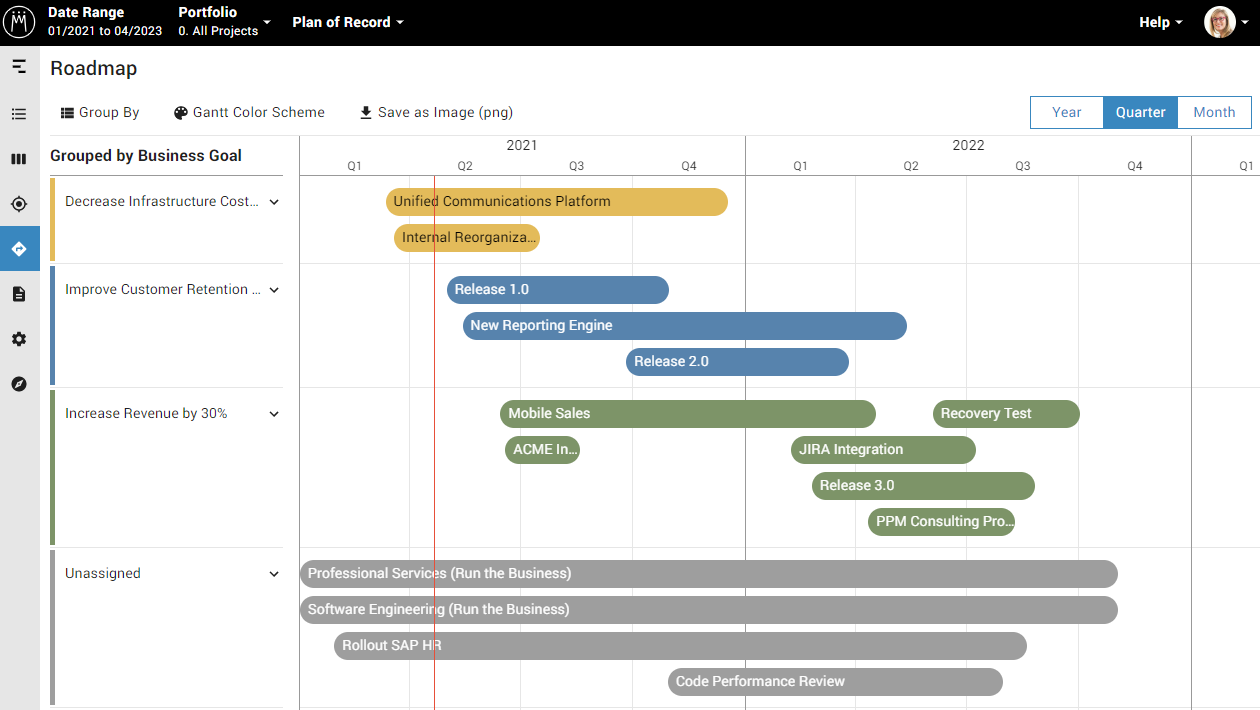 Select the desired Date Range, Portfolio and Scenario in the header and group the view by Business Goal to show which projects contribute to reaching your goals, and when the goals can be reached.
If you won't have access to Meisterplan during your presentation to management, simply save the roadmap as an image file.
Communicate Decisions
Once the plan has been agreed on, it's time to share it with the organization. Use the Roadmap to show teams how their projects contribute to the company's goals, or show project managers which projects they need to deliver this quarter.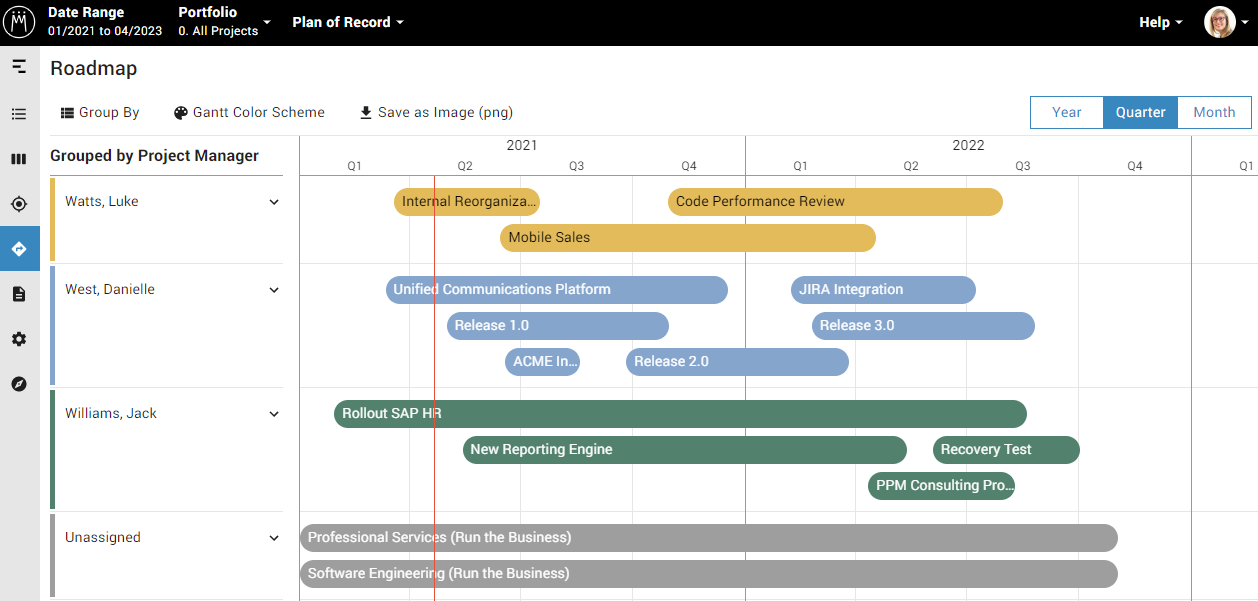 If you provide colleagues access to the respective portfolios, they will be able to see all approved projects and group them the way they want. You can also group the Roadmap per target group and save it as an image file for your teams and project managers.