Configure your company's organizational structure, or OBS (Organizational Breakdown Structure) as it is called in Meisterplan.
What is an OBS?
An OBS unit in Meisterplan is used to categorize projects and resources by various organization structures like department, team, office, etc. Configuring the OBS view with data customized for your organization can help optimize your system for PPM and ensure users see only the most relevant information.
Opening the OBS View
In the header, click Resource Pool in the top right. Then, select Organization (OBS) in the left column to open the OBS view.

Overview of the OBS View
In the OBS view, you can view, rename, add and delete units of the Organizational Breakdown Structure. Except for deleting items, any changes you make in the resource pool are preliminary until you click either Apply or Discard.
In the middle of the view, there is a hierarchical list of all OBS units. You can edit the name of the selected OBS unit in the field on the right.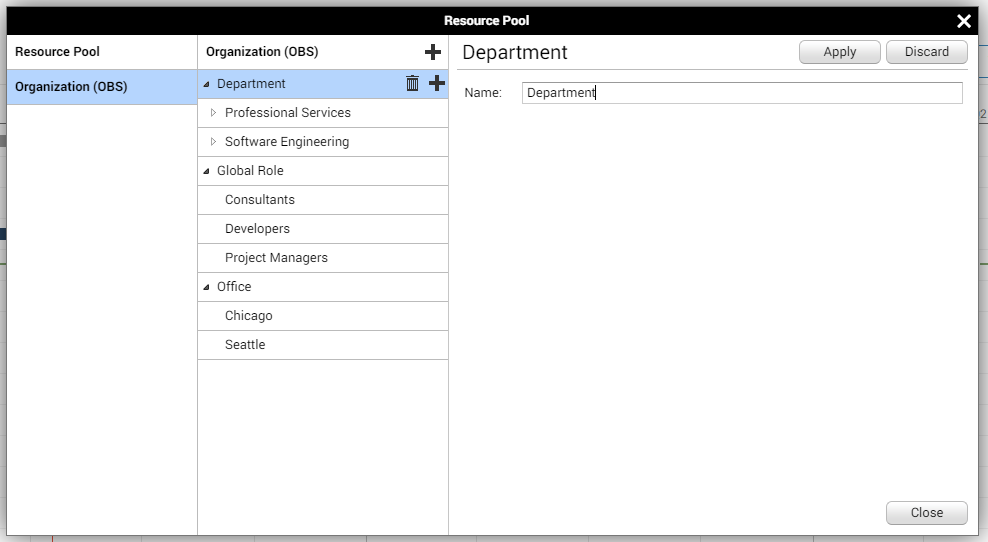 Viewing the OBS Hierarchy
The hierarchical list of OBS units displays the OBS hierarchy: The little arrow next to an OBS unit indicates it has sub-units. Clicking the arrow will expand or collapse the structure under the OBS unit.
Renaming an OBS Unit
To rename an OBS unit, select it in the list and change the name in the right-hand field.
Adding an OBS Unit

Add Top Level OBS Unit: click the plus icon above the hierarchical OBS list.
Add OBS Sub-Unit: click the plus icon of the parent OBS unit to which you would like to add a sub-unit.
A new list item will be added for the new OBS unit, either on the top level or indented below its parent OBS unit.
Add the name of the new OBS unit in the right-hand field. Click Apply to create the new OBS unit. Click Discard to cancel creating an OBS unit.
Connecting OBS Units to Resources
Only OBS sub-units can be connected to roles and resources, while top level OBS units cannot.
You can also import OBS sub-units using the Quick Import for Projects. Learn more in the Fields That Can Be Imported section of the Quick Import for Projects article.
Deleting an OBS Unit

Delete OBS Unit: To delete an OBS unit, select it in the list and click the trash can icon displayed at the end of the line.
You will be asked to confirm the deletion. If you do, the selected OBS unit and any sub-units will be deleted.
Projects and Resources assigned to any of the deleted OBS units will lose their OBS assignment.