This article gives a general overview about the Portfolio Designer view in Meisterplan.
Video: Schedule Projects & Plan Capacity
Learn how to schedule and prioritize projects, staff resources and monitor capacity in Meisterplan's powerful Portfolio Designer View:
View Layout
The Portfolio Designer view is divided into three sections displaying projects, resources and roles as well as financials: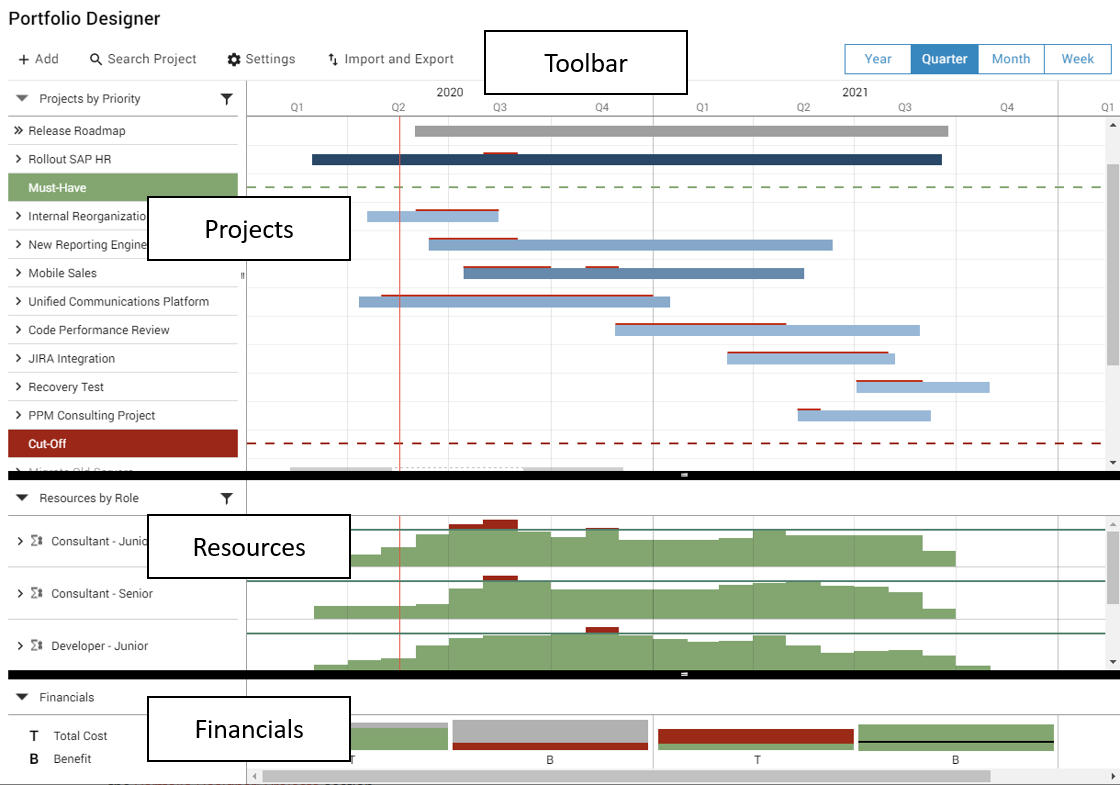 The resource and financial sections may be collapsed or expanded by by clicking the arrow icons.
Projects Section
This is where you create, edit, prioritize, schedule and staff projects.
For details about the project section, see the Project Section Basics article and the other articles in the Portfolio Designer: Projects section.
Resource Section
This is where the utilization and availability of resources and roles are displayed. You can group resources by role or OBS in this view and analyze the utilization stack to see where the workload occurs.
For details about the resource section, see the Resource Section Basics article and the other articles in the Portfolio Designer: Resources section.
Financials Section
The financial section will only be displayed when working with financials, i.e., when one of the following applies:
Cost per Hour entered for any role or resource in the resource pool
Financial Event entered for any project
Portfolio Budget or Target Benefit defined
This is where project costs and benefits are displayed and compared to the portfolio's budget and target benefit, if these have been entered for the current portfolio.
Please note that, if your fiscal year doesn't match the calendar year, the timescale of the financial view will not match the timescale of the Gantt chart in the project section.
For details about the financial section, see the Financial Section Basics article and the other articles in the Portfolio Designer: Financials section.
Toolbar Actions
The toolbar for the Portfolio Designer view offers the following actions:
Add a Project or a Program - see the Adding, Editing or Viewing a Project and Working with Programs articles for details.
Search Project - the list will be filtered to display only projects and programs matching your search term.
Settings - see the Portfolio Designer Settings article for details.
Import and Export
More Actions

Auto-Schedule - see the Auto-Schedule article for details. You need to have the Auto Schedule Multiple Projects right as described in the Manage User Groups article.
Sort by Project Score - sorts the list of projects by project score. If one or more projects are selected, you may also choose to sort only the lower part of the list starting with the first selected project. Please note that this operation cannot be automatically undone. This feature must be activated per user group by selecting the Change Project Rank and Sort Projects by Project Score option in the Detailed Projects and Program Rights section. See the Rank and Project Score article for details about the project score feature.

Select a Zoom Level via the Year, Quarter, Month and Week buttons on the top right.