Availability All Editions
Apply ad-hoc filters to view only the data you currently need.
Where to Find
Depending on the Meisterplan view, you can find either project or resource filters.
Project filters are available in the following views:
Resource filters are available in the following views:
How Ad-Hoc Filters Work
Ad-Hoc Filters and Portfolios, Scenarios and Date Range
The header settings (Date Range, Portfolio and Scenario) define the data that is displayed in the respective view. The ad-hoc filters filter within this data set. You can configure the header settings and the ad-hoc filters independently from each other.
The selected filters will remain even if you change to another portfolio or log off and log in again.
Adding and Removing Ad-Hoc Filters
In the toolbar, click Filter to display the line below containing the filter selection. Next, click Add Filter and select the field for filtering: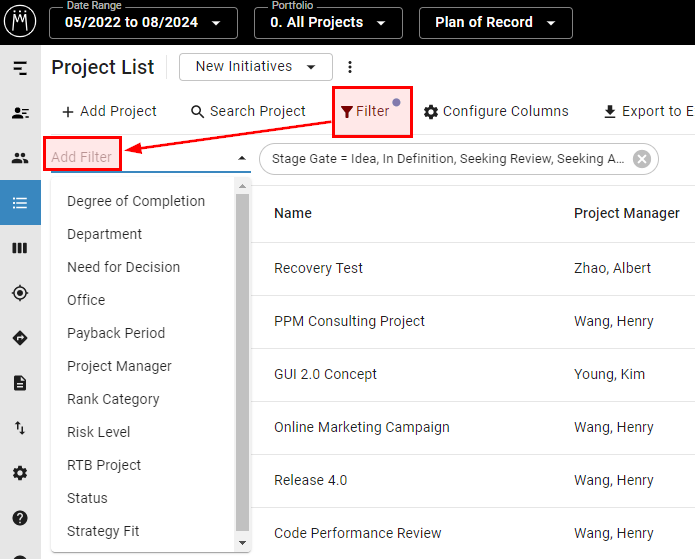 You can select project filters from the following fields:
You can select resource filters from the following fields:
Check the boxes for the values in the dropdown list that you want to filter for.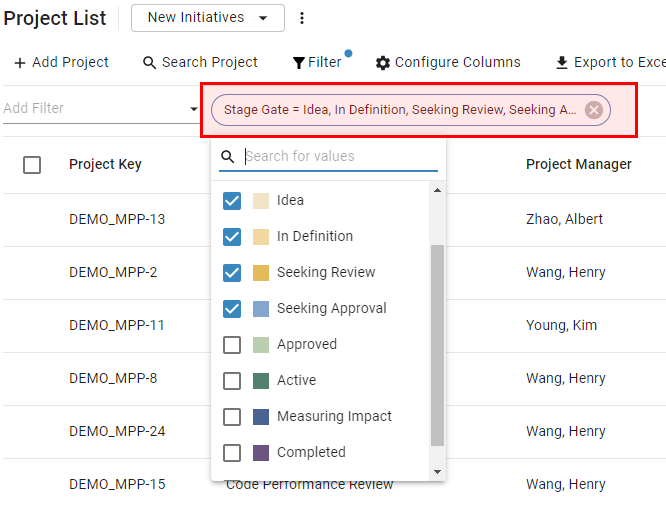 The search field helps you find the right values quickly especially if there is a long list of values. Each view will be filtered in real time. You can use several filters at the same time. A project is displayed if each of the filters applies.
To remove a filter, click the X after the field name.
You can save ad-hoc filters in Custom Views to quickly access the view configuration you need.