This article provides an overview of how to add your own data (projects, resources and allocations) in Meisterplan.
Preparation: Sample Data and Configuration
Before adding your own data in Meisterplan, you should delete the sample data.
We also suggest customizing your configuration of Meisterplan before loading your own data. This includes, for example, creating roles and organizational structures, adding or changing project fields, and naming project phases. You can set up your configuration quickly, and this allows for a quicker and easier implementation of Meisterplan. For instructions, see the article Configure Meisterplan for Your Business (Video).
What Data Should Be Added in Meisterplan?
The following data is needed to plan with Meisterplan (for how to do it, see the How to Bring Your Data into Meisterplan section):
Projects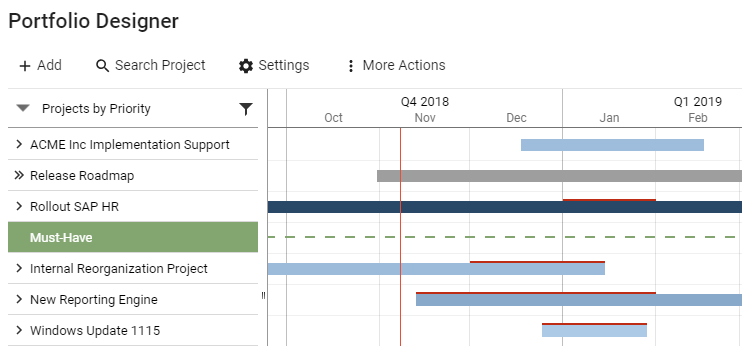 Projects show what your organization is working on. When creating projects, you define the start and end dates, link the projects to your organizational breakdown structures (OBS) and fill in your own project fields.
To learn more about working with projects, see the article Portfolio Designer: Projects.
Resources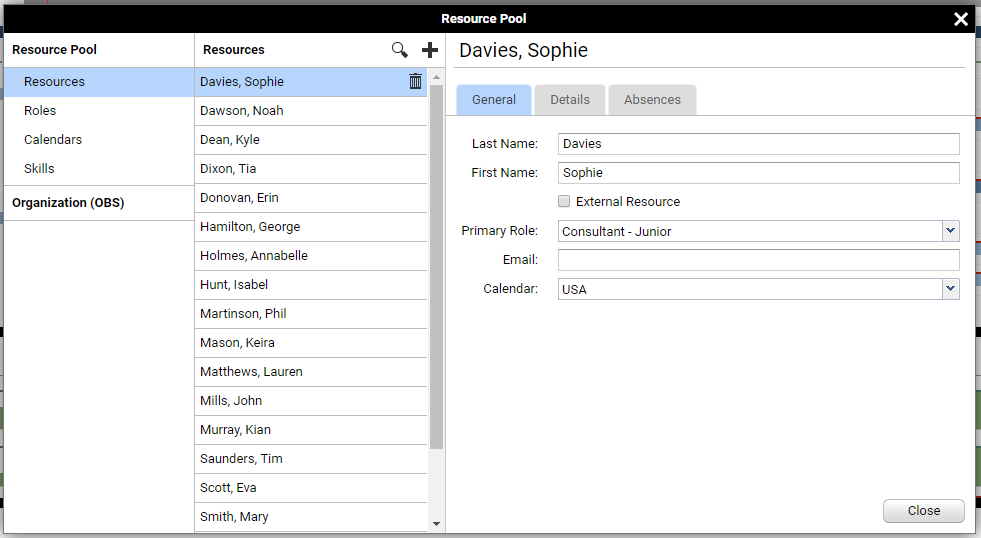 Resources are the people that you schedule on projects. When creating resources in Meisterplan it is best to link them to roles and organizational breakdown structures (OBS), such as Business units or locations that were created when configuring Meisterplan. This will simplify planning and give a better overview later.
You can set other properties for resources in Meisterplan including:
Individual capacity using a calendar
Vacation and other absences
Special skills (optional)
Start date and termination date
To learn more about using Resources in Meisterplan, see the article Managing Resources.
Allocations

Allocations show which resources should contribute to a project and to what extent. Allocations can be created for roles as well as for individual resources. The proportion of capacity can be specified either in hours, days or in FTE.
To learn more about Allocations, see the article Adding and Editing Allocations.
Depending on what option you choose, you can create this data either individually or together in one step.
How to Bring Your Data into Meisterplan
Meisterplan offers you several options to get your data into the tool.
If you have only a few projects or resources, you can simply add them directly in Meisterplan.
If you have a larger number of projects, resources or even allocations ready in a spreadsheet you import it easily by copy and paste.
If your data is in another application, such as Smartsheet or ServiceNow, use one of our integrations or our web service API to connect to Meisterplan.
Manually
You can easily create projects as well as resources and allocations directly in Meisterplan.
Manually Add Projects
To add a new project, open the Portfolio Designer and in the toolbar, click Add > Project.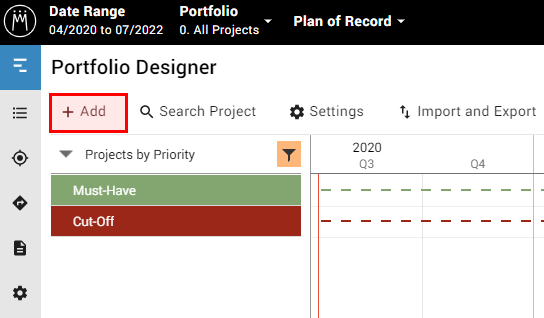 This will open the Edit Project window, where you provide details such as the project name, start and end dates, status, and/or corresponding OBS unit.
For more details, see the article Adding, Editing or Viewing a Project
Manually Add Resources
Open the Resource Pool in the header. The Resources section will be automatically displayed. Next, click on the plus symbol to add a new resource. In the tab labeled General, enter the first and last name and, if you have configured roles, the Primary role: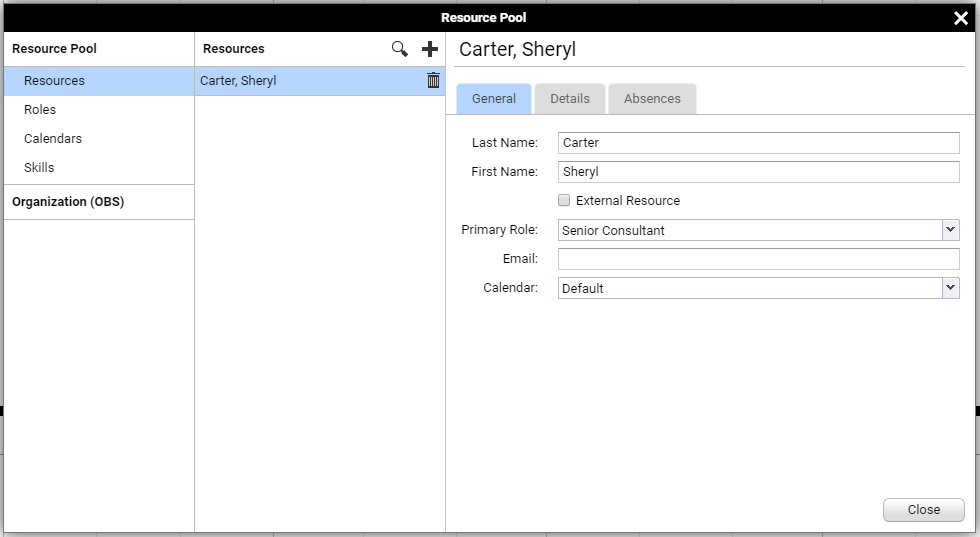 Save the new resource by clicking Apply. Next, go to the Details tab where you can link the resource to the appropriate organizational breakdown structure (OBS) (provided that you have set up the OBS units as part of the configuration).
For more details, see the article Managing Resources.
Manually Add Allocations
After projects and resources have been created, add the appropriate resources and roles to each project in the Portfolio Designer and enter the planned amount of effort allocated.
If necessary, adjust the following two settings to fit your needs beforehand:
By default, the Project Allocation unit in Meisterplan is set to Full Time Equivalent (FTE). If you prefer to schedule in person days or hours instead, change the default unit for allocations. Open the Settings in the toolbar of the Portfolio Designer and select the appropriate option in the field Project Allocation Unit.
The Allocations Editing mode is set to Flexible by default, which means that each allocation initially spans the project's duration. You can manually divide them into any number of segments by right-clicking. If you would rather have Meisterplan automatically create individual segments per week, month, or go to Settings in the Portfolio Designer toolbar, and select the Time Grid option under Editing of Allocations.
To add a resource or role, hover over a project in the list and click the plus icon.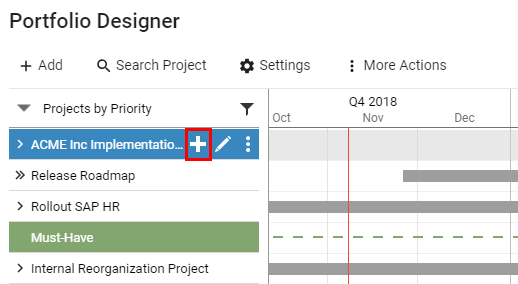 This opens the resource pool. In the selection window, you can filter the results by searching for names, roles and abilities. Click on the desired role or resource from the results to make your selection, and the selected role or resource will then be immediately added to the project.
Now enter the allocation by clicking in the allocation segment below the project bar and typing the allocation in FTE, person days or hours for each role or resource, and then confirm by clicking Enter.

For more details, see the article Assigning Employees to Projects.
Import Data from Other Tools
If your projects and other data are in another tool, such as Excel, Smartsheet, Jira or Clarity PPM, simply import them into Meisterplan. Some examples:
Details about all tools you can integrate with Meisterplan can be found in the section Integrations & API.