Import and export data easily as MS Excel files.
Different Options for Importing from Excel
There are several ways to import data from Excel files into Meisterplan.
Quick Import via Copy & Paste
Simply copy the data from your Excel file and paste it in Meisterplan to import. If you want to import data into a scenario other than the Plan of Record, first select that scenario in the black header bar before beginning the import.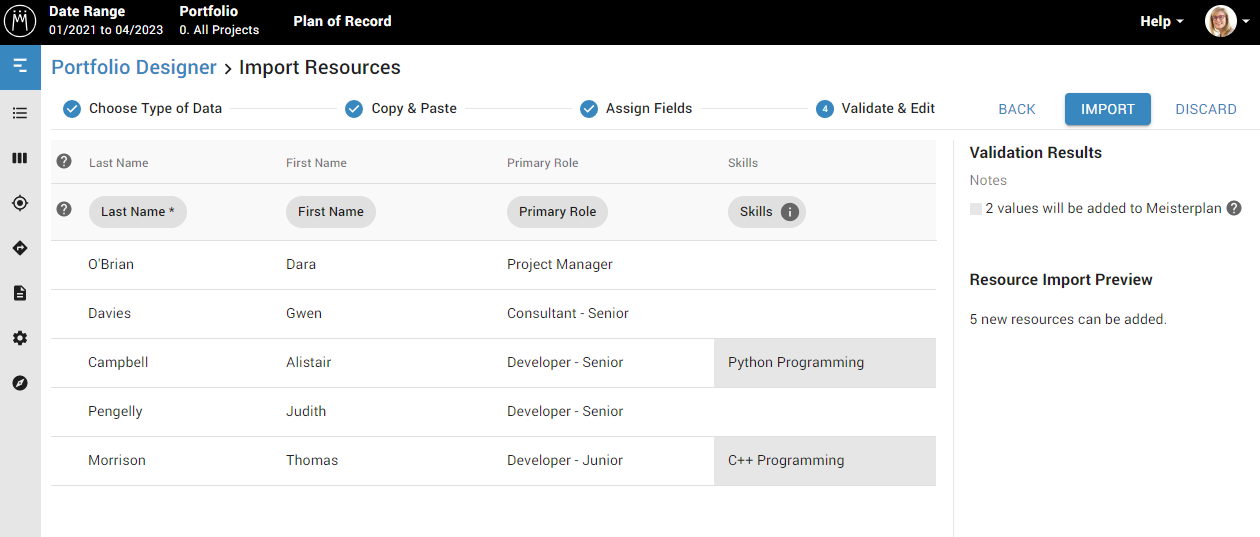 Find detailed information on the quick imports in these articles:
Import via Excel Template
Download our template, copy and paste your data into the template and import it into Meisterplan. Please note that this overwrites the entire Plan of Record. With the Excel template, is not possible to import data into a scenario.
See the Excel Template Overview article for more details on this import.
Import via Data Source
You can configure Excel as a data source in Meisterplan to regularly import data from a file.
See the Data Import with an Excel Data Source article for more details on this import.
Difference Between Excel Template and Excel Data Source
The following table gives you a short overview of the differences between importing data with the Excel template and importing data from a configured data source:
Excel Import in the Toolbar of the Portfolio Designer View
Excel Data Source Import
Always available for Administrators and Data Managers.
Must be configured for Administrators and Data Managers.
Imported data have "Meisterplan" as Data Source entry.
The data behave as if they had been created inside Meisterplan.
Data source name is set as Data Source entry.
The list will always be sorted by priority of the imported projects.
Applying the project priority from Excel is optional.
Global update or delete option for import.
Configurable update and import rules allow for treating different types of data differently.
Export to Excel
In the Import and Export menu of the toolbar for the Portfolio Designer view, select the Export to Excel option to open the Export to Excel window.

Either the plan of record data or the data of a scenario will be exported. Under Scenario, the active scenario will be selected by default. If no scenario is active, the Plan of Record will be selected. If desired, change this selection.
Click OK to start the export. The selected data will be exported into a new Excel file using the latest version of the Excel template for your Meisterplan instance.
Please note: The data will be downloaded as an xlsm file and contains macros. Depending on your browser, your download may fail due to the macros. Please check and change your browser settings if applicable.
You can export a simple Excel file with all project information you need from the Project List.