Availability All Editions
Learn how to prepare your Meisterplan system so that you save time during import.
Best Practice: Start Fast, Extend Later
Before you start configuring, we recommend that you decide which information you really need to start making plans. Focusing on what really matters will help you get fast results, and you can always extend your configuration later.
In Step 2, we'll share best practices that help our customers configure their system to start fast.
Step 1: Delete Sample Data
If you prefer a clean slate before importing your own data, you can delete the sample projects and resources that are included in Meisterplan trial systems. If not, you can always delete them later.
To learn how to delete the sample data with one click, see the Import: Deleting the Sample Data article.
Step 2: Configuration Before First Import
Configuring the following elements saves you time during import. They're all preconfigured to help you get started quickly, but feel free to edit or delete the preconfigured elements and add your own:
Custom Project Fields
Custom project fields define which additional details you can manage in Meisterplan for each project, such as "Stage Gate" or "Risk Level". Configuring this ahead of time will allow you to import these details when importing projects.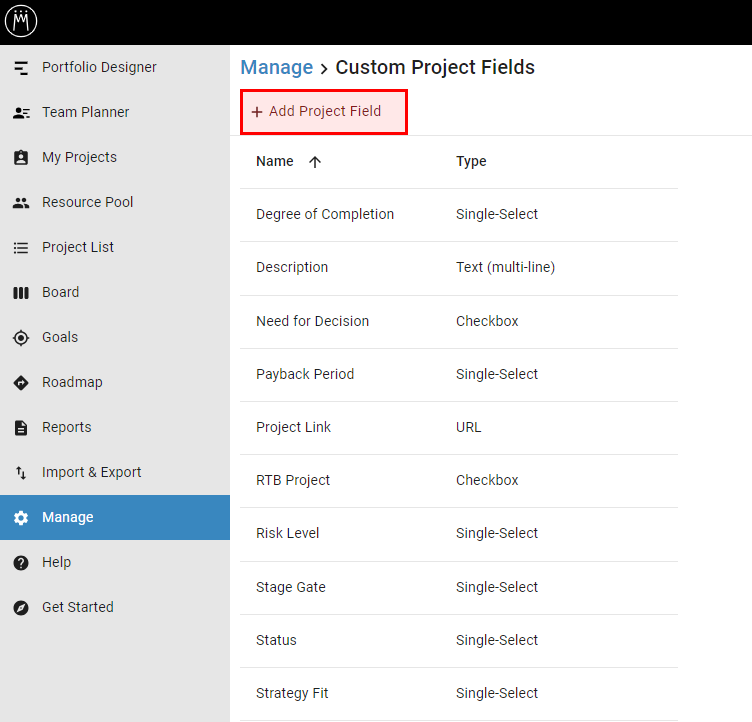 Best Practice for Fast Results
Project fields that are essential to making high-level portfolio decisions are already preconfigured in your system. Before you add more fields, think about whether they are really needed. Also, if some information is only used by departments that won't use Meisterplan for now, you can start without it.
To start configuring project fields, click Manage in the left-hand Sidebar, and select Custom Project Fields. Learn more in the Manage Custom Project Fields article.
Project Phases
Define the typical phases your projects pass through, for example, "Planning". This allows you to specify the relevant project phase when importing milestones.

Start by clicking Manage in the left-hand Sidebar and then selecting Advanced. Learn more in the Manage Advanced article.
Roles
In Meisterplan, you can assign job roles such as "Project Manager" or "Senior Developer" to people to help you find the right person for each project. Configuring roles before import allows you to specify each person's role when importing resources.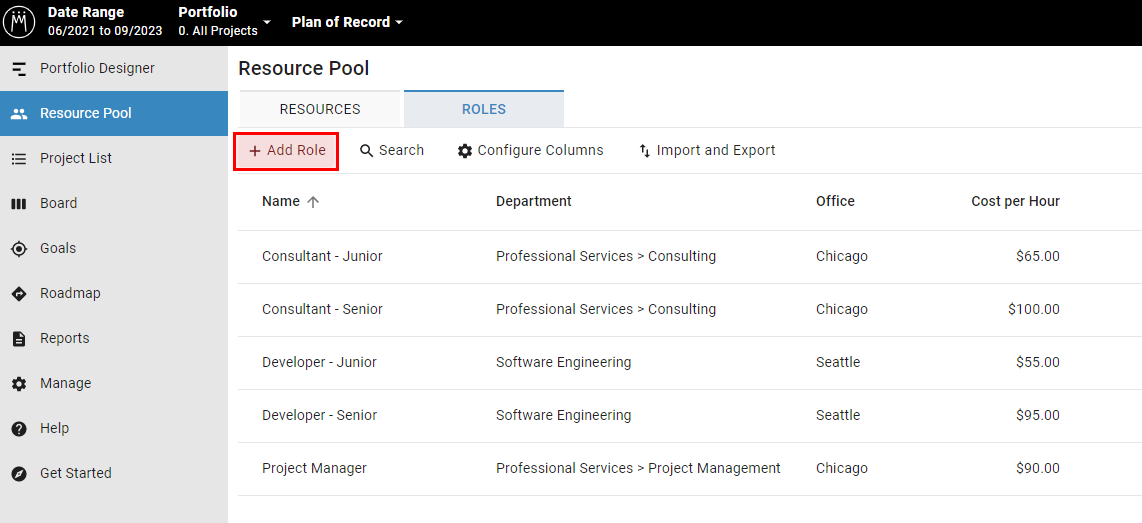 Best Practice
If you're planning on importing from a spreadsheet, you can simply add roles using the Quick Import instead of adding them manually in the Meisterplan UI. If you import from other sources, configure roles in Meisterplan first.
FInd out more in the Resource Pool: Roles article, or check out this video:
Learn how to import roles from spreadsheets in the Quick Import: Roles article.
Skills
When looking for the right people for a project, you might think "who's an expert in Agile Project Management" or "which of the Senior Developers are Java experts"?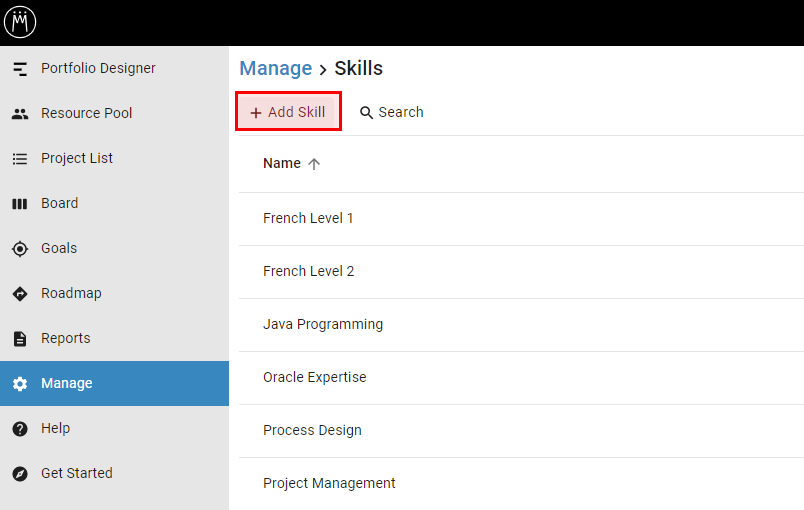 In Meisterplan, you can assign skills to people and then filter your list of employees by skill. Configuring skills before importing resources allows you to specify each resource's skills during import instead of having to assign them later manually.
To get started, open the left Sidebar, click Manage and select Skills.
Learn more in the Using Skills to Find the Right People article, or check out this video:
Best Practice
Skills are completely optional - if you're company doesn't maintain skills per employee or doesn't allow the practice, you can skip this step. Also, you can start fast by only configuring skills for those resources where filtering by skill would really help.
Organizational Breakdown Units (OBS)
Configuring your company's organizational structure helps you slice and dice your portfolio data, for example by department or office location. Configuring this ahead of time allows you to specify an organizational unit for each project or resource you import.
Start by clicking Manage in the left Sidebar and and select OBS. Learn more in the Managing OBS article, or check out this video:
Best Practice
Our customers often start with a subset of their business. For now, only set up the departments and other units that you'll really plan for in Meisterplan. Also, if you use the Quick Import to import projects and resources, you only need to configure top-level OBS (e.g., "Department"). OBS units (e.g., "Sales") can be added during import.
Business Goals
Availability Pro Premium
Configure your organization's business goals, for example, "Increase Revenue". Again, this allows you to specify which goal each project is connected to when importing projects.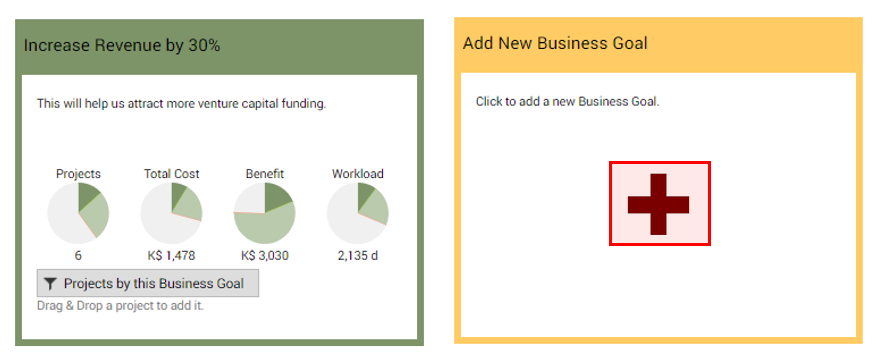 Start by clicking Goals in the left-hand Sidebar. Learn more about configuring Business Goals in the Goals (View) article.