This article gives an overview about the project section of the Portfolio Designer view in Meisterplan.
Overview of the Project Section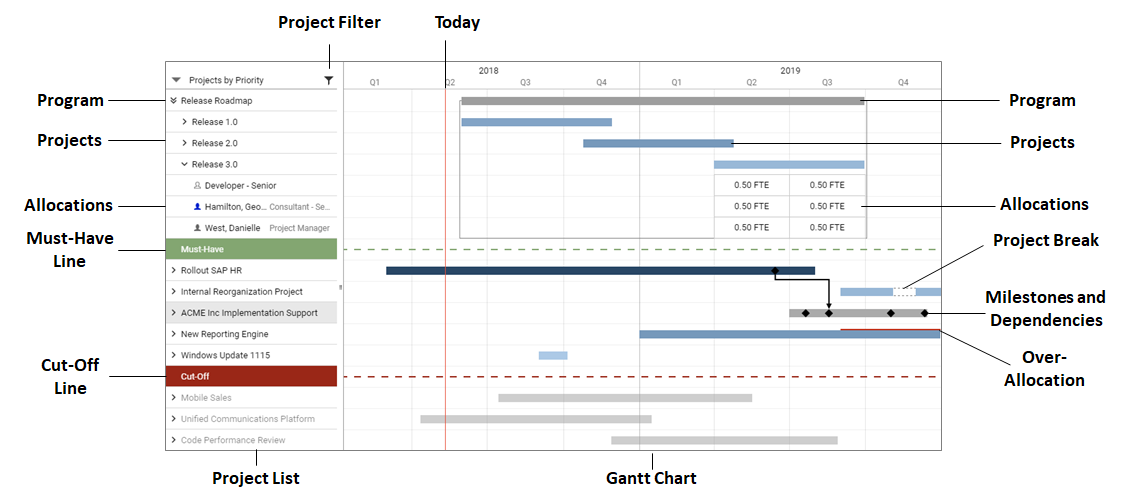 The projects section is divided into the left hand side project list and the right hand side Gantt chart:
Via the Project List, you prioritize projects, group them with programs and add or remove allocations.
The Gantt Chart is where you schedule projects, edit allocations and add milestones and dependencies.
Project List Features
The following features are available in the project list:
Filter projects: Click the funnel icon to filter the list and Gantt chart. See the Project Filter article for details.
Reprioritize projects: At any time, you can reprioritize projects by dragging & dropping the respective project name up or down.
Show and edit project details: To do this, move the mouse over a project name and click the pen icon. See the Adding, Editing or Viewing a Project article for details.
Show allocations: Click the arrow icon left of a project name, or the double arrow icon left of a program name.
Add allocations: Move the mouse over a project name and click the plus icon. See the Adding and Editing Allocations article for details.
Remove allocations: To do this, right-click an allocation and select Remove from Project from the context menu.
Move the Must-Have Line and Cut-Off Line: To structure your project portfolio, drag and drop the Must-Have Line or Cut-Off Line up or down. Projects below the Cut-Off Line are not considered in workload calculations (resource section) and budget utilization (financials section). Detailed information is available in the Must-Have Line and Cut-Off Line article.
Show additional information for projects and programs: Move the mouse over a project name to display a hint with more information. See the Project and Program Hints article for details.
Additional functions: Right-click a project name to open a context menu. It lets you do things like deleting projects or automatically sorting them by project score. See the Project Context Menu article for details.
Gantt Chart Features
The following features are available in the Gantt chart:
Selecting Projects and Programs
Click a project or a program in the project list or Gantt chart to select it. You may also select multiple projects and/or programs via [Shift] or [Ctrl]. Please note that only the projects in your current date range will be displayed.
Selected projects and programs will be highlighted in the project list and Gantt chart.
The Gantt chart will display any milestones and dependencies of selected projects and of projects belonging to selected programs.
The resource section will be filtered to display only roles and resources allocated to selected projects or to projects belonging to selected programs.
Click Clear Resource Filter on the divider bar to remove the selection