Availability All Editions
Well-organized project details allow you and your colleagues to see all relevant information at a glance. Configure your project settings and clearly organize your view to include only what you and your team need for effective planning.
Where to Find
To access this view, you need to have the Manage Project Fields, Project Settings, Project Overview and Advanced right.
Open the left sidebar, click Manage and select Project Settings.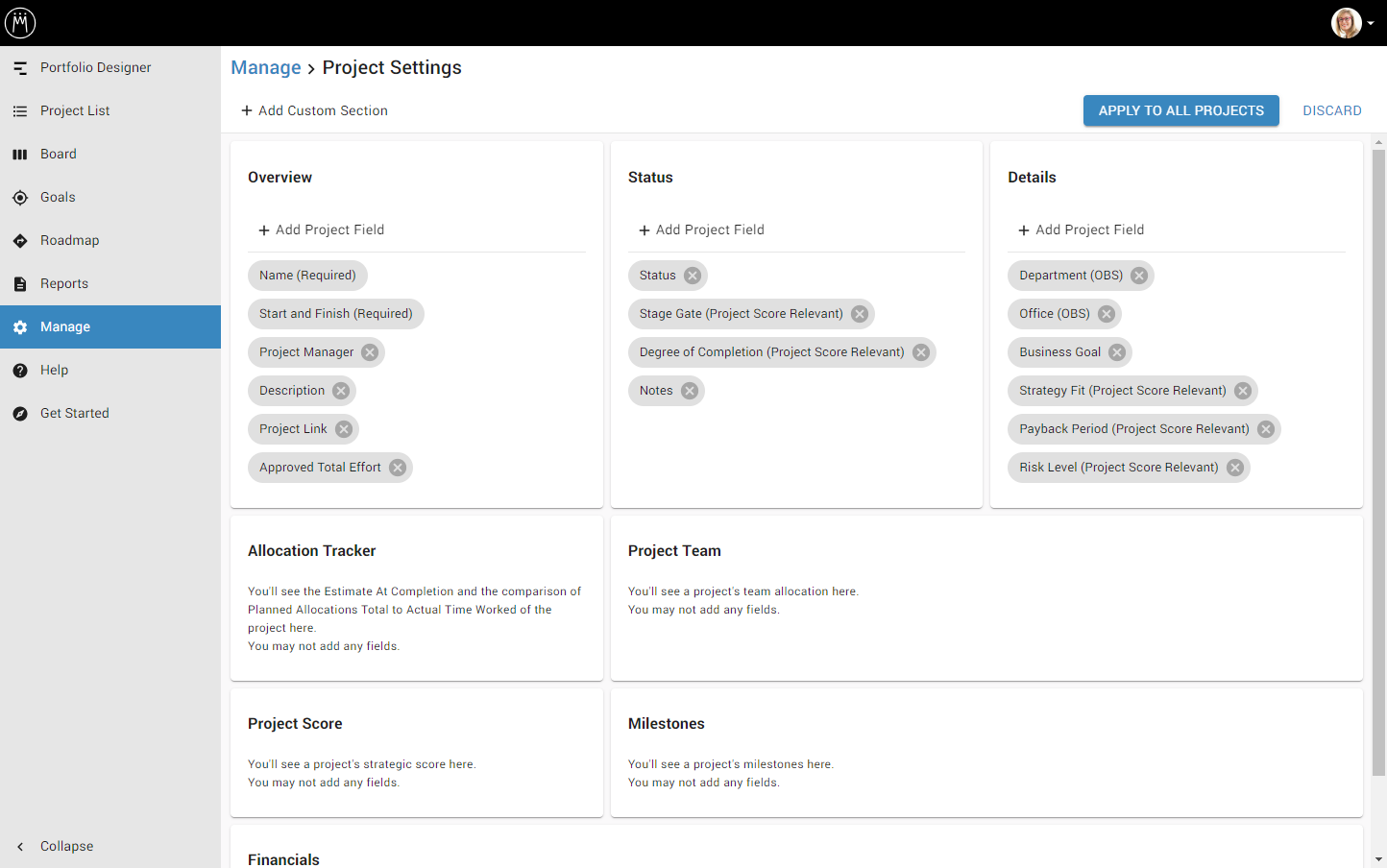 How to Configure
Define which project details your organization wants to maintain in this view, and how they should be organized. In Meisterplan, you will find eleven pre-configured sections (e.g., Overview, Status, Details) that you can reorder using drag and drop. Your configured settings will apply to all projects: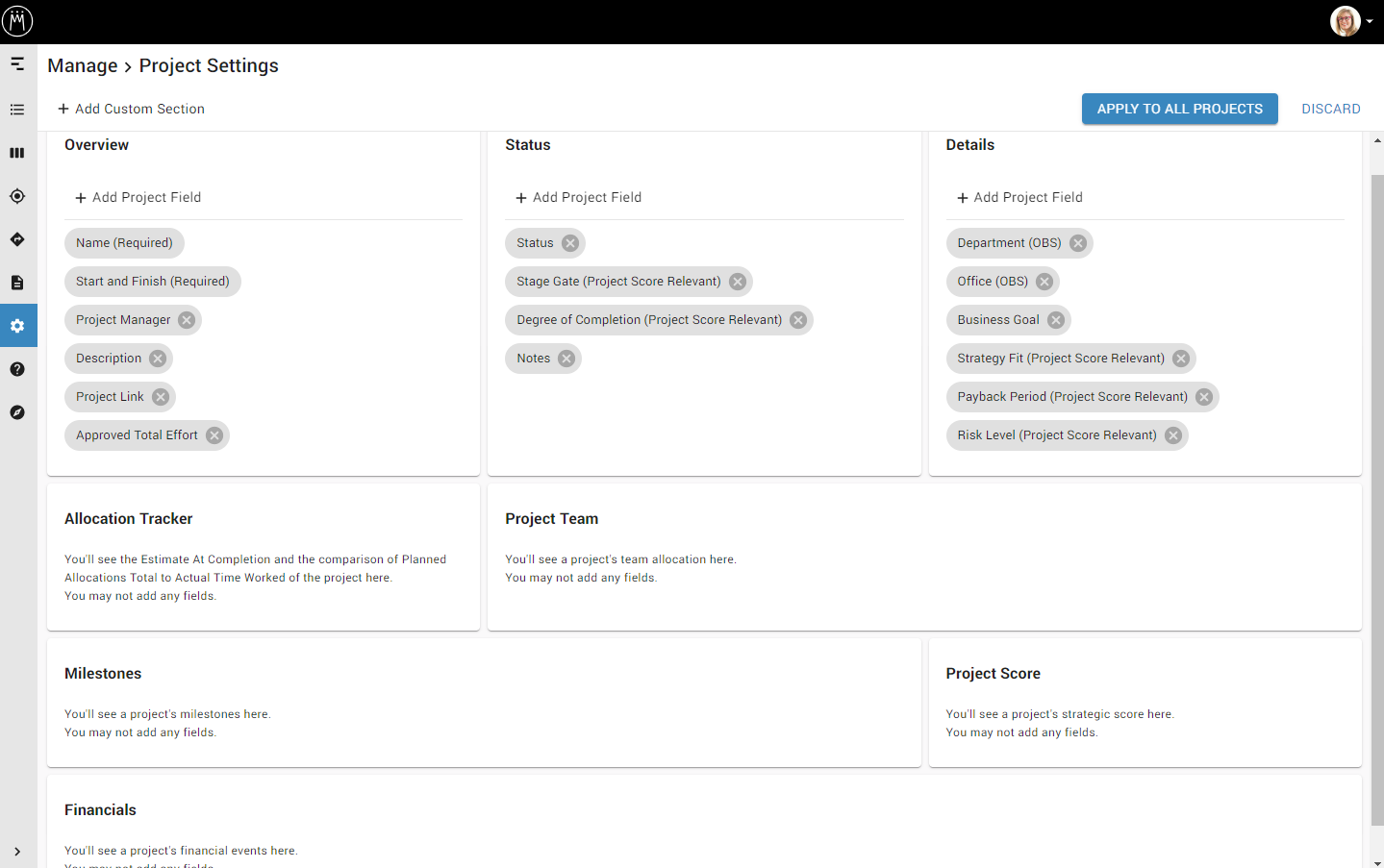 You can also create custom sections with project fields such as Name, Status or Stage Gate which can be easily reordered using drag and drop.
User Rights for Financial Sections
To access the Financial sections, you need to have the Access Financial Data right. Learn more about user rights in the Manage User Groups article.
Configuring Sections
Milestones, Project Score, Roles and Resources - Allocations, Allocation Tracker, Financial Tracker, Resource and Roles - Cost, Cost Type Tracker and Financials are pre-configured sections which you can reorder using drag and drop.
Delete them by clicking the trash can icon which appears when hovering over that section, or add them by clicking on "Add section". These four sections can only be added once.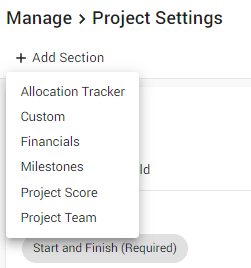 Creating and Configuring Custom Sections
You can create as many custom sections as you need to organize your project details. Simply click Add section and select Custom. Click the name of a section to rename it, or move it using drag and drop.


The Meisterplan pre-configuration comes with three custom sections: Overview, Status and Details. They contain suggested project fields which can be moved to other sections.
Add fields by clicking Add Project Fields, or drag and drop them from one custom section to another. You can only add each field once. Remove a field by clicking the X after its name.
The following fields are available:
All project fields for which you have at least read-only rights (system fields and custom fields)
Financial Key Indicators (e.g., Planned Benefit, Total Planned Costs), displayed in the currency set in the left Sidebar under General Settings

Pro

Premium

All Actuals key figures from this list

Pro

Premium

Financial key figures from this list
Top level OBS
The program name
Last Changed
You need to add at least one custom section and one project field to be able to save the configuration.
Result
When you have finished configuring your settings, open a project's details to check the new view: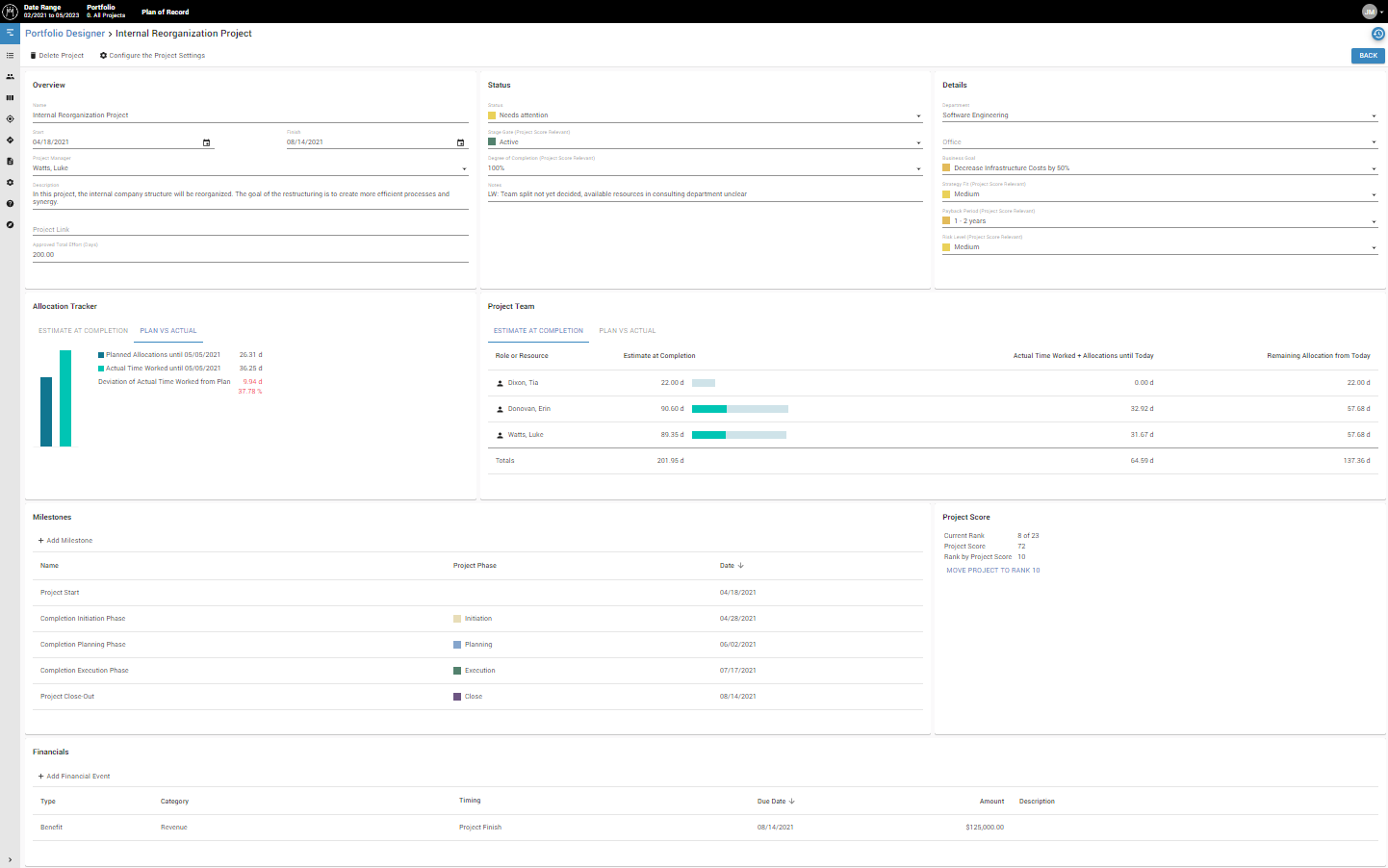 Tips
You can adjust the project settings at any time. However, the earlier you determine the settings, the easier and quicker it is for your colleagues to provide all the necessary information.
Hiding project fields: When you remove a project field from the settings, the data is no longer part of the project details, but not deleted. If you add that project field to the configuration at a later time, the information will be displayed again.