Availability All Editions
Exchange project and allocation information directly in Meisterplan to keep your colleagues up to date. This gives you access to project communication and portfolio-level collaboration history exactly where you need it.
Types of Comments
Project Comments
To add a comment to a project, open or select the project and click the comments icon in the right sidebar to open the Information Panel in your view.
You can find Project Comments in the following views:
Allocation Comments
To add a comment to an allocation, first select a project and a role or resource that is assigned to this project. Then, the right sidebar, click the silhouette in the speech bubble icon to open the Information Panel in your view. 
You can find Allocation Comments in the following views:
Portfolio Designer
Team Planner
Resources Inherit Role Allocation Comments
When a user comments on a role allocation, and a resource is later allocated to that project with this role, the allocation comment will also be displayed on the resource allocation for that project.
How Comments Work
Comments do not require specific user rights. Every user can see and add comments to all projects or allocations.
Comments are global and identical across all scenarios. Below the time stamp, every comment displays the scenario in which it was created. This helps you understand which project or allocation version the comment refers to.
Adding Comments
Adding Single Comments
To add a comment, click the comment field and enter the desired text:

Next, click the send icon. Your comment will be displayed with your name, the time stamp and the scenario in which you added your comment.
Adding Bulk Comments to Projects
In the Project List view, you can comment on multiple projects simultaneously. To write an identical project comment on multiple projects at the same time, select the projects which you want to comment on and select Comment in the toolbar. In the dialogue, type your comment. Click Comment to add your comment to all your selected projects.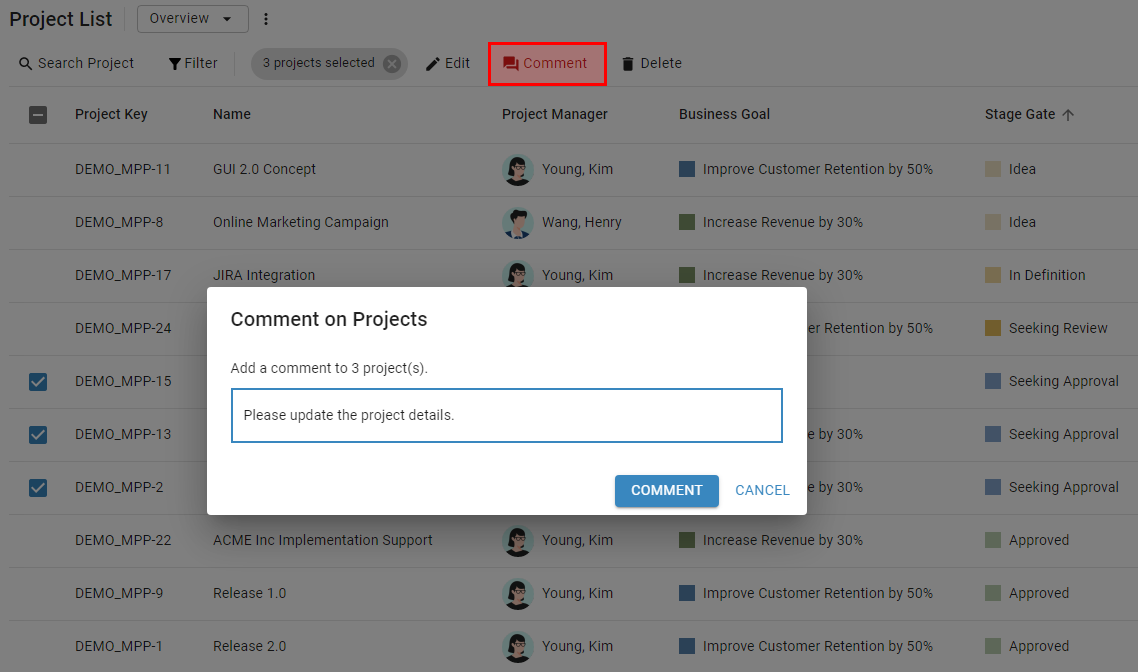 Mentioning Users in Comments
Mention your colleagues in a comment, e.g., to inform them about a change or to request a specific resource for a role allocation. Just enter the @ icon and start to type the name. Meisterplan will suggest users that match the string.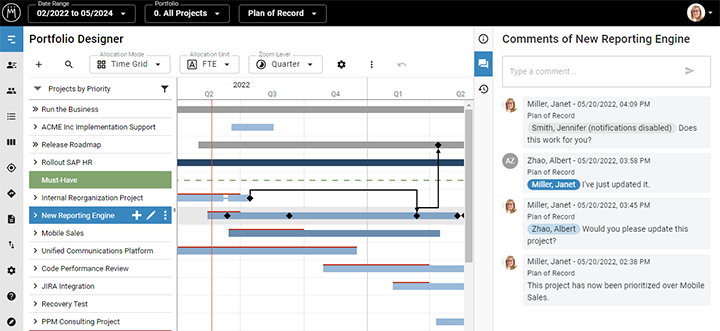 Users mentioned in a comment will receive a notification by email containing the comment and a link to that comment, provided that they have verified their email address and activated the option for receiving email notifications of comments in their user profiles.
Automatic Notification of Comments
If you've activated email notifications in your user profile, you'll receive an email when:
You are mentioned in a comment

A project comment or an allocation comment is added to a project on which you are assigned to be the project manager

An allocation comment is added on a role or resource on which you are assigned as the resource manager.
Learn more about notifications in the Email Notifications in Meisterplan article.
You can also receive notifications in Microsoft Teams for project comments. Learn more in the article Meisterplan Application in Microsoft Teams.
Deleting Comments
To delete your comment, move your cursor over the comment and click the trash can icon. You can only delete your own comments.