This article lists the information displayed in the hints for projects and programs in Meisterplan.
Hints may be disabled and reenabled with the [Alt]+[H] keyboard shortcut.
Project Hint
Hover over a project name in the list to display the following information: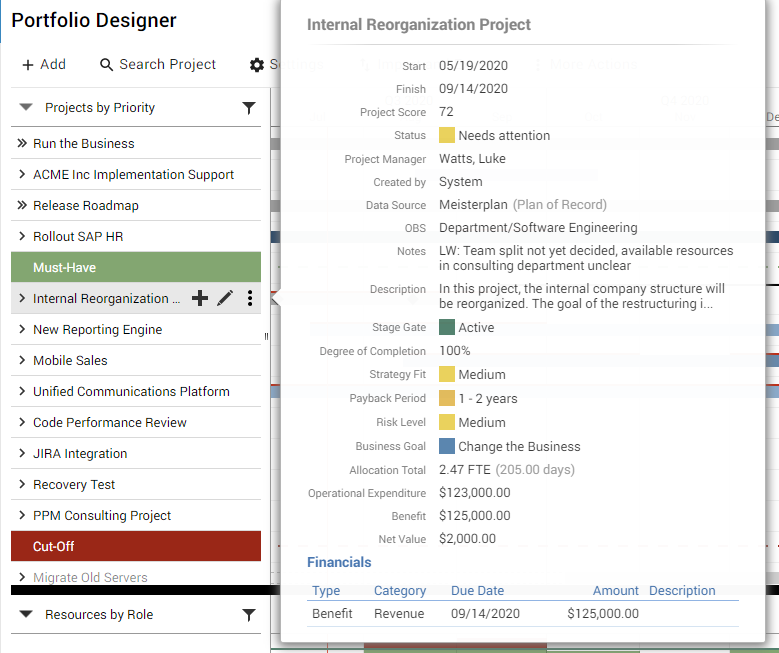 Name
Start
Finish
Project Score: sum of project score values assigned to the project via lookup values of the Status field and of custom project fields of the Lookup type. See the Rank and Project Score article for details.
Status: if you have rights for this field. See the Manage Project Fields article for details.
Project Manager
Created by: if created in Meisterplan
Data Source: "Meisterplan (Plan of Record)" for projects created in the plan of record, data source name and "(Plan of Record)" for imported projects, scenario name and "(Scenario)" for projects created in a scenario.
OBS
Notes
All custom project fields enabled for hints for which you have project field rights, with colors for lookup fields. See the Manage Project Fields article for details. In the above screenshot, this includes the Description, Stage Gate, Degree of Completion, Strategy Fit, Payback Period, and Risk Level fields)
Business Goal: see the Strategy View article for details.
Allocation Total: sum of all role and resource allocations belonging to this project. The first unit is always FTE. The second unit in brackets depends on the selected project allocation unit. See the Project Allocation Unit section of the Portfolio Designer Settings article for details.
OpEx, CapEx, Benefit: from role and resource allocations and financial events
Net Value: Benefit - OpEx - CapEx
Financial Events: see the Financials section of the Viewing and Editing Projects article for details.
Program Hint
Hover over a program name in the list to display the following information: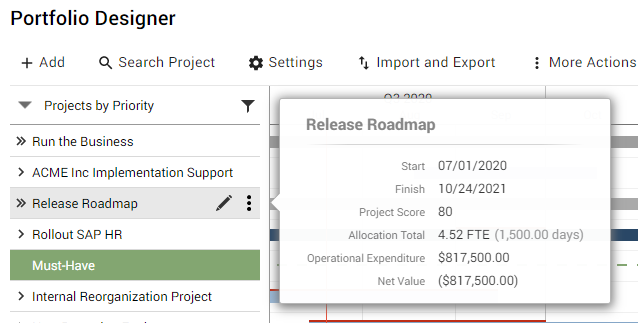 Name
Start
Finish
Project Score: highest score among included projects. See Project Score above and the Rank and Project Score article for details.
Allocation Total: sum of all role and resource allocations belonging to projects in this program. The first unit is always FTE. The second unit in brackets depends on the selected project allocation unit. See the Project Allocation Unit section of the Portfolio Designer Settings article for details.
OpEx, CapEx, Benefit: from role and resource allocations and financial events of included projects.
Net Value: Benefit - OpEx - CapEx