Availability All Editions
To make the right portfolio decisions, your projects need to be up to date. Easily keep your Meisterplan data up to date using Excel, no complex API or tool integration required.
Required User Rights
Learn which user rights are necessary to complete the steps decribed above in the Required Rights to Update Projects with Microsoft Excel article.
Step 1: Export to Excel
First, export the current status of your project data from Meisterplan. The Export to Excel allows you to export only the data you need.
Start by selecting the date range, the scenario and the portfolio to limit the data to be exported.

In the left Sidebar, click Import & Export and under Export to Excel, select the desired data. The following data types contain project-relevant information:
Projects with project details
Allocations:

Allocation List: This import is well suited if your allocation data is planned on a high level rather than a monthly or weekly granularity level.
Allocation Matrix: This import is well suited if you plan your allocations on a monthly or weekly basis.

Milestones
Financial Events
Next, click Start Export and save the exported file to your computer. If needed, add the export date to the file name.
Step 2: Editing the Exported Data
The exported file may contain data that you do not need to update. To avoid working on the wrong projects, we recommend deleting or hiding rows and columns in the spreadsheet that you do not need so you can focus on the relevant projects. Now, update the data in the file.
Data Not Updatable via Quick Import
The following can only be changed manually in Meisterplan and cannot be updated using the Quick Import:
Milestone Dependencies: There is no Quick Import for Milestone Dependencies. You can update changed dependencies in the Portfolio Designer's Gantt Chart.
Project Key: Project Keys are used to identify a project but cannot be used to update a Project Key. You can update Project Keys by editing the field in the Project List.
Rank and Rank Category: You cannot update a project's rank using the Quick Import. You can update the rank in the Portfolio Designer by dragging and dropping the project to the right position.
Step 3: Import into Meisterplan
Once the Excel files are up to date, you can import them back into Meisterplan using copy and paste through the Quick Import. In the left Sidebar, click Import & Export and in the header bar, select the scenario for your import. Next, click the desired data type (e.g., Allocation Matrix) and then Start Import.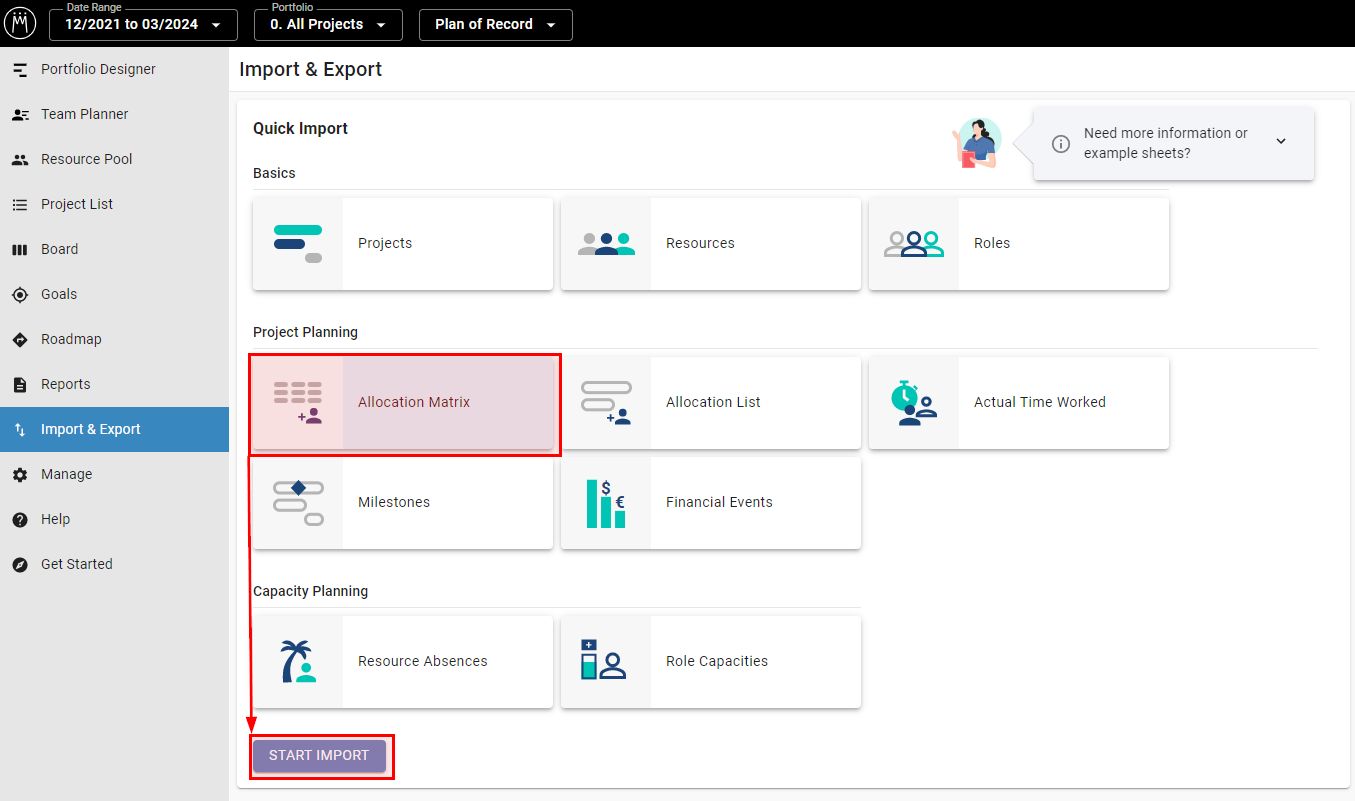 Follow three easy steps to import your data into Meisterplan.
Caution: Check Date Format
If the locale set in Microsoft Office version is different than what is set in your browser, you may not be able to successfully import the exported dates due different date formats. Learn more here.
All changes made using the Quick Import can be tracked in the Change Log.