Availability All Editions
In the Excel Export, you can clearly define just the data you want to export. Use the data for reporting, share it with colleagues for quality checks, or easily edit and reimport it using our Quick Import.
How the Excel Export Can Help You
This section details how the features and options of the Excel Export can benefit you.
Your benefits at a glance:
Control what data you want to export by first setting the date range, portfolio and scenario and then selecting the data you need. You can choose from the following data types:

Projects with project details
Resources with resource details
Roles with role details
Allocation List
Allocation Matrix
Milestones
Financial events
Resource absences
Role capacities
Milestone dependencies
OBS

This export is designed to support our Quick Imports. Easily export your Meisterplan data with the Excel Export, and then edit the Excel file and easily import the data using the Quick Import without any need for reformatting. The following exceptions apply:

There is no Quick Import for milestone dependencies.
In the Quick Import for Projects, you cannot import the rank.

With the Excel Export and corresponding Quick Import, the following features are possible:

Update any scenario you have the right to edit.
Track all changes post-export in the change log.

Allow colleagues to maintain and export their own data in Meisterplan based on their current user rights.
Share the data with colleagues in a format that is easy to read and process for quality checks prior to exporting.
Exported data file is easier to understand and work with because it does not contain technical IDs or macros.
How the Excel Export Works
In the Integration Rights section of your user group, you need to have the Export Data right.
In the left Sidebar, click Import and Export and under Export to Excel select the data you want to export. To only export the specific data you need, select the date range, scenario and portfolio in the header: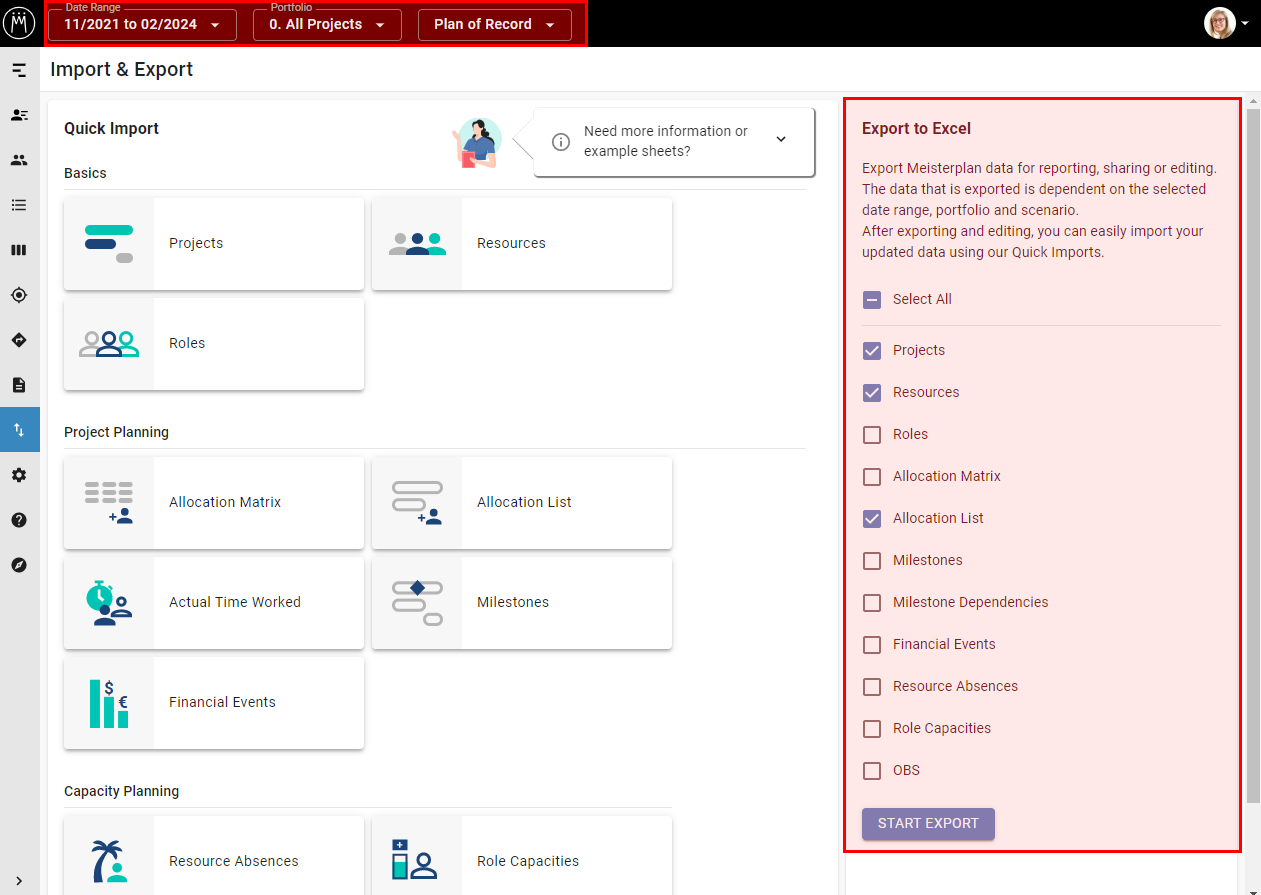 When exporting allocations (list or matrix), you can also define the allocation unit and the time intervals for the export: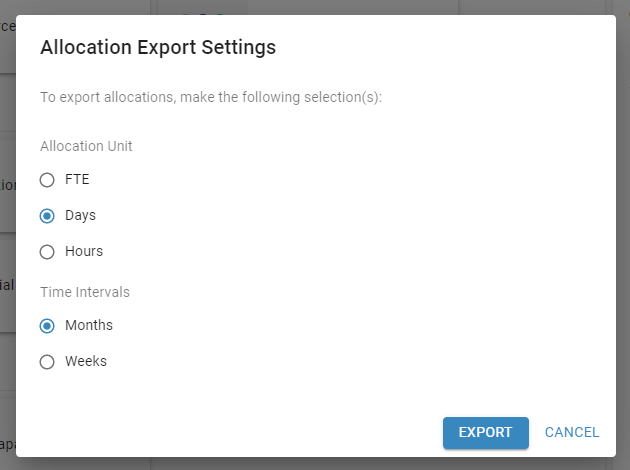 You can use the exported Excel to import data into another tool. Or update the data in the Excel file and import the updated data into Meisterplan using copy and paste through the Quick Import.