Learn the key facts about integrating Meisterplan and Jira to start aligning strategic overall planning with agile work!
How the Jira Connector Can Help You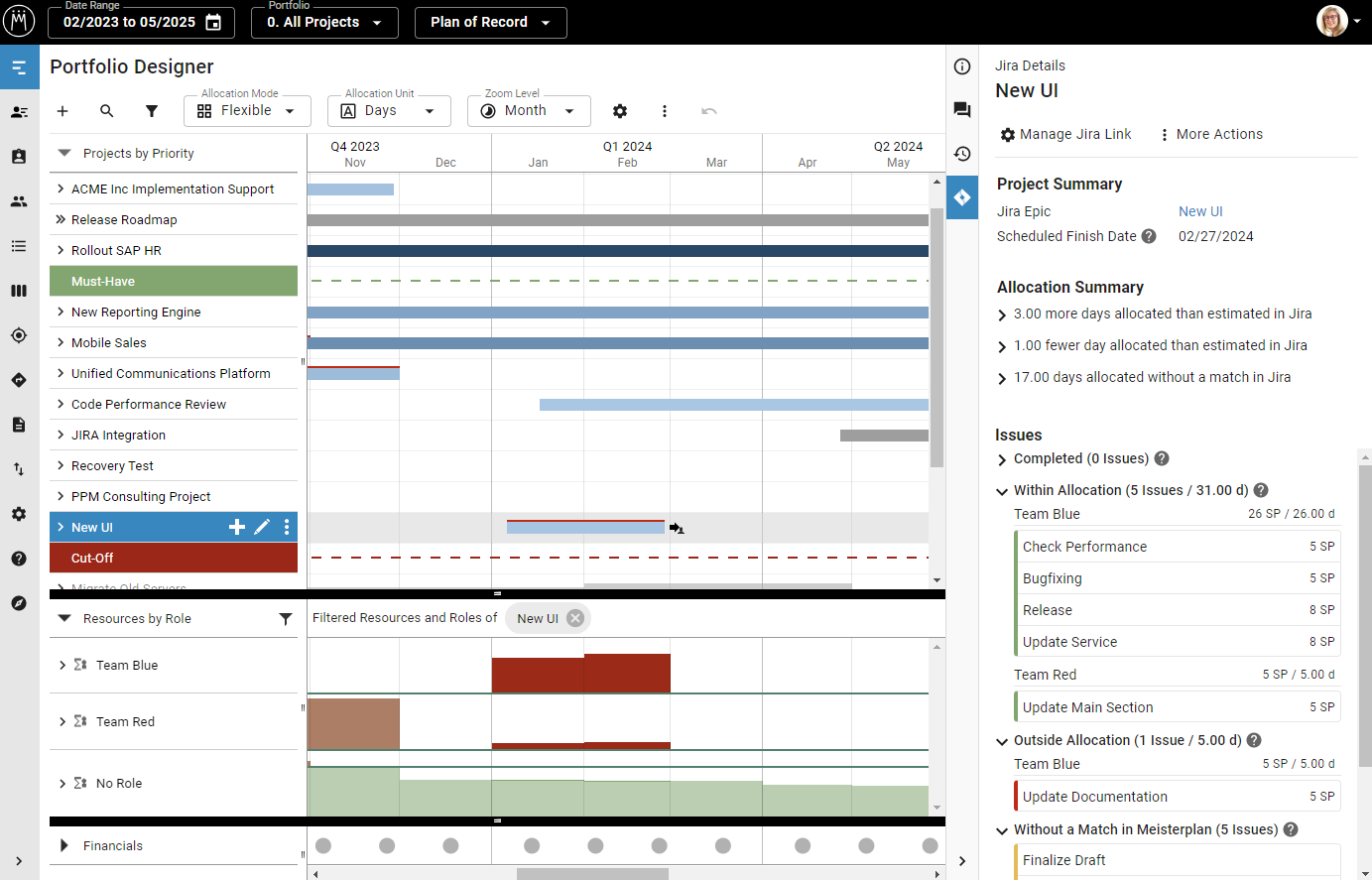 With the Jira Connector, you can finally align strategic overall planning with how agile teams work.
Your benefits:
Gain visibility into work managed in Jira
Create a long-term plan based on strategic initiatives, so that different teams can work towards a common goal
Your teams continue to work how they want - be it agile or waterfall, in MS Project, Trello or Jira, even if you have multiple teams working in multiple instances of Jira.
Always consider the availability and utilization of your employees so that you can make realistic forecasts and make sure nobody is overbooked
Create a common communication foundation, a single source of truth, for management and agile teams
Simulate what-if scenarios - how do changes affect the roadmap, for example, if you're hiring another development team?
How the Jira Connector Works
Connect both tools without creating more work for you or your colleagues.
Jira data is not stored in Meisterplan, so you don't have to maintain data twice
No data is changed in Jira, so you can not accidentally overwrite or unintentionally mess up data
No additional Jira fields or data required - your teams work the same way as always
You can use both cloud and server instances of Jira
For packaging individual Jira work items into strategic Meisterplan projects, use the full flexibility of JQL (depending on your Jira license)
The following information from Jira can be viewed in Meisterplan:
Name and key of linked epics
Title, effort estimate and key of linked issues
List of already completed issues (Jira status category "Done")
Find out how to test the Jira Connector without risking live data in the Testing the Jira Connector article.
Technical Requirements
To use all the functions of the Jira Connector, the following requirements must be met:
You need a Jira user account (cloud or server).
Jira Cloud: Login via SAML is possible. Find more details about SAML here.
Jira Server: Login via SAML is only possible if the Jira user has a password and if login via password has been allowed in Jira.
Jira issues need an effort estimate so that Meisterplan can correctly calculate the number of isses that can be completed within the allocation.
Jira Server: Jira Version 7.4 or later is required
Jira Server: Your Jira instance must be accessible from the Internet (HTTPS port 443 or HTTP port 80) (no VPN) for communication with Meisterplan. It is sufficient to only allow access to the instance from the IP addresses used by Meisterplan SaaS systems. You can read more about this in the FAQ Connect to Meisterplan via Static IP.
How to Use the Jira Connector
Learn how to use the Jira Connector. We'll let you know whenever it might be useful to ask a Jira expert from your company for help: