This article describes viewing subscription details and changing your subscription in the Subscription administration view which is available in Meisterplan SaaS systems for most license types.
Required Access Level
The Subscription view is only available to Administrators.
Opening the Subscription View
The Subscription view is available under Manage in the sidebar.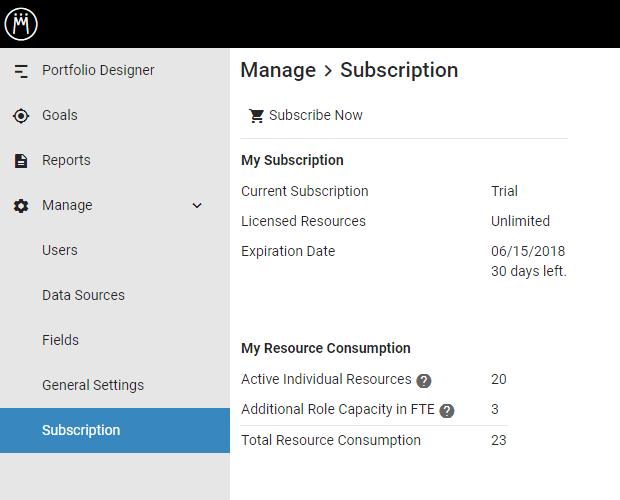 Overview of the Subscription View
The Subscription view displays the following information:
My Subscription

Current Subscription: subscription status (Trial/Paid).
Licensed Resources: for paid systems
Expiration Date and days left for trial systems

My Resource Consumption

Active Individual Resources: a resource is considered as active until after the associated Termination Date.
Additional Role Capacity in FTE: the maximum additional role capacity entered for each role in the plan of record counts as one additional resource per FTE. If one or more scenarios with a higher additional role capacity exist, the scenario with the highest number of additional FTE is used as the basis of calculation.
Example    You're planing with the following additional capacities: 


 
Developer
Project Manager
Consultant
Additional
Role Capacity
Plan of Record
1 FTE
4 FTE
1 FTE
6 FTE
Scenario 1
3 FTE
2 FTE
4 FTE
 9 FTE 
Scenario 2
2 FTE
1 FTE
5 FTE
8 FTE

Scenario 1 has the highest number of additional FTE and will be used for the calculation.
Total Resource Consumption: total of active individual resources and additional role capacity
Via the toolbar, you can subscribe or change your subscription:
For trial systems, the Subscribe Now button is available here to switch to paid.
For paid subscriptions, the Change Subscription button is available here to upgrade or downgrade your subscription.