This article describes viewing subscription details and changing your subscription in the Subscription administration view which is available in Meisterplan SaaS systems for most license types.
Required Access Level
The Subscription view is only available to Administrators.
Opening the Subscription View
The Subscription view is available under Manage in the sidebar.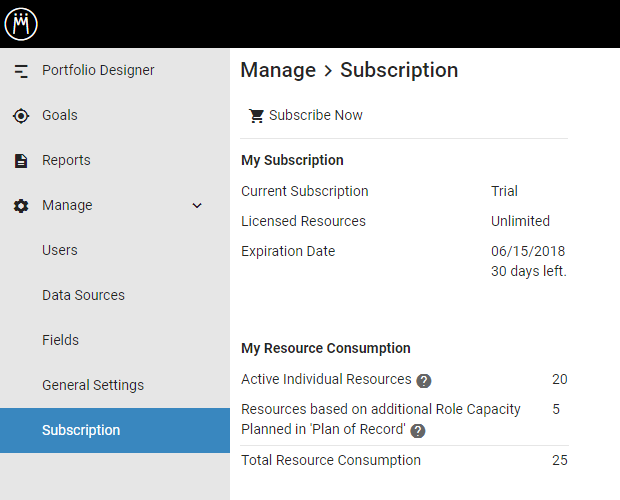 Overview of the Subscription View
The Subscription view displays the following information:
My Subscription

Current Subscription: subscription status (Trial or Paid).
Licensed Resources: number of available resources (for paid systems)
Expiration Date: when your license will expire and, for trial systems only, the number of days left in your trial

My Resource Consumption

Active Individual Resources: Individual Resources can be defined as a specific named person (Sally Smith, John Doe, etc.). All resource are considered active until their Termination Date.
Resources based on Additional Role Capacity: You can also allocate resources based on a role (e.g. Project Manager, Senior Developer, etc.) One resource based on Additional Role Capacity is defined as additional capacity assigned by role equaling one FTE (full-time equivalent). The plan of record or scenario with the highest number of resources based on Additonal Role Capacity is used as the basis of calculation and is displayed below.
Total Resource Consumption: The sum of active individual resources and additional role capacity. 
Via the toolbar, you can subscribe, change or cancel your subscription:
For trial systems, the Buy Now button will be visible and can be used to purchase a package
For paid subscriptions, the Change Subscription button is available to modify your subscription.
See our Licensing & Pricing page for more details.