This article describes logging in to Meisterplan with your Meisterplan, Google or Microsoft account.
Login via Meisterplan Account
Enter your Meisterplan user name and password and click Login to log in.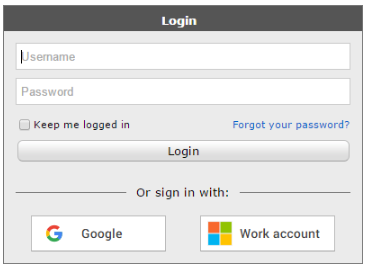 Users with the Administrator access level may create and edit Meisterplan accounts in the User Management tab of the settings. See the User Management article for details.
Login via Google or Microsoft Account
If your Meisterplan username is identical to the e-mail address you are using to log in to your Google or Microsoft account, you can log in to Meisterplan with that account.
Please note that if you are using multiple Google or Microsoft accounts, you can log in to Meisterplan only with the account whose e-mail address matches your Meisterplan username.
Click the associated logo to be forwarded to the login page. After logging in, you will automatically be redirected to Meisterplan.
When you first log in via your Google or Microsoft account, you will automatically be prompted to allow Meisterplan to access your Google or Microsoft account data. This process is required for verifying the e-mail address with which you log in to Meisterplan. We will not access any other data of your Google or Microsoft account.
Reset Password
If you have forgotten your password, you can request a new password via the Forgot your password? link in the login window.
You will be prompted for your Meisterplan user name or e-mail adress.
Your new password will be sent to the email address entered for your Meisterplan user account.
Please note that for on premise systems, this feature will only be available after a mail server has been configured for Meisterplan. Please contact your Meisterplan support if you need assistance with this.
User Name Parameter
You can pass the user name in the URL via the "username" parameter (e.g., to enter "john doe" in the user name field, enter "http://www.example.com/meisterplan/?username=john doe" as URL).
Session Timeout
You will automatically be logged out again when your session expires. By default, this happens after one hour without any user interaction.
Keep Me Logged In
Select Keep me logged in to prevent your session from expiring. This will save a cookie that is valid for four weeks and will keep you logged in until you log out again via the main menu.
Login Blocked
Please note that a user will be blocked for ten minutes after twenty login attempts with invalid login data to prevent unauthorized access.