Availability All Editions
This product enhancement is a work in progress. Features, design and planned release date are subject to change. It will first be released in the SaaS version of Meisterplan, the On-Premise release will follow.
We are excited to inform you that we are redesigning the Reports view! You will be able to easily manage reports as custom views, like in the Project List or the Team Planner. This improvement will make it simpler to copy and share reports.
Additionally, you will also be able to configure access rights for reports per user group.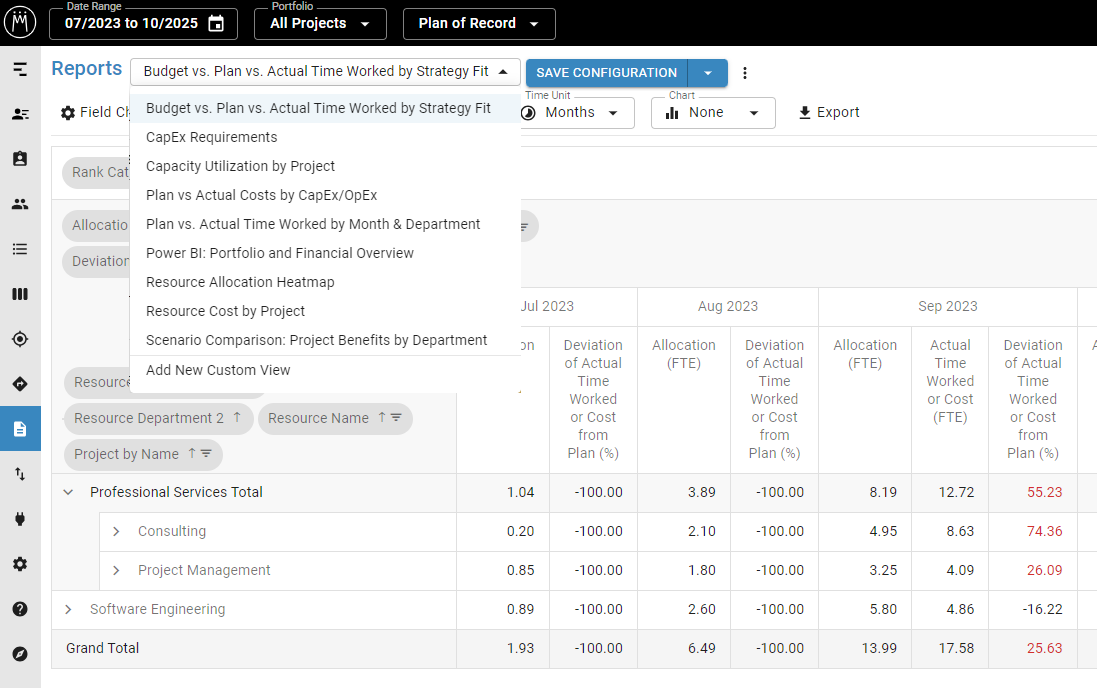 What Will Change
You will be able to assign access rights for reports per user group, not only per user.
All existing reports will be changed into custom views. All users with access rights will continue to have access to these reports.
The right Manage Reports will be removed. The right to edit and share reports will be determined by the Manage Custom Views right.

Learn more about this right in the article Manage User Groups.
What Do I Need to Do
With the deprecation of the right Manage Reports into the right Manage Custom Views, the options for Manage Custom Views (Private, Shared, All) will apply to reports, regardless of what the Manage Reports right of the user groups was before.
See below which option allows which actions:


| | | | |
| --- | --- | --- | --- |
| Function | Private | Shared | All |
| Add and delete own reports | X | X | X |
| Share their own reports |   | X | X |
| Open reports shared with the user | X | X | X |
| Delete and edit reports shared with the user |   | X | X |
| Share reports that are shared with the user |   | X | X |
| Open, edit, delete and share all shared reports |   |   | X |

All other rights (like Access Actuals) will still apply.
So that the right people continue to have access to the correct report, we recommend the following:

If you would like to avoid having a user group being able to create or view Reports, you can remove the view from the left sidebar with customizable navigation. You can do this before the release.
If a user should have access to all reports, but no access to other views, you can also remove access to these views with customizable navigation.
All users with the option All Reports will automatically be given access to existing reports so that they continue to have access to all reports. No further action is required.
In any case, we recommend you assign all the relevant user groups to the correct reports after the release and remove users. This allows you to manage user rights, navigation and report acces through user groups. Additionally, new users can have instant access to the reports that are most important to their user group.
What Are the Advantages of This Change
Share your reports with specific user groups and specific users, making it quick and easy to transparently configure new users
Edit reports in an easy-to-manage overview
Determine specific access and edit rights for Reports
Questions or Feedback?
If you need more information, please contact us at support@meisterplan.com. If you have feedback, please leave a comment in our Product Roadmap.