This article provides an overview of the integrated pivot reports in Meisterplan.
What Data Is Being Used for Reports?
For integrated "Pivot & Charts" reports, the available data set is based on the date range, portfolio and scenario you select on the top left of your screen: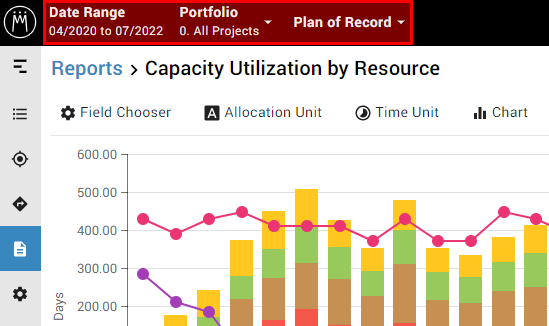 When viewing a report with capacity and/or allocation data, please note that Meisterplan will include non-portfolio data in the report if it affects your portfolio projects or resources. This applies to:
Non-portfolio projects with portfolio resources allocated to them
Non-portfolio resources which are allocated to portfolio projects
For example, let's say there's a project called "Christmas Marketing Campaign", and a resource named Julie Hanes is allocated to it within the selected date range:

Julie Hanes is included in your report even if she is not part of your selected portfolio, as long as the "Christmas Marketing Campaign" project is.
The "Christmas Marketing Campaign" project is included in your report even if it is not part of your selected portfolio, as long as Julie Hanes is.
If you'd like to distinguish between portfolio and non-portfolio projects and resources in your reports, simply add the field Project in Portfolio or Resource in Portfolio from the field chooser to your report's configuration.
The Report Types
When you add a new integrated pivot report to your Meisterplan, you select the report type depending on what you want to report on:
The report type determines which report fields you can choose from. Through report fields, you control what available data actually shows up in your report. Click on a report type name above to learn which fields you'll be able to choose from.
Charts
Pivot reports contain an optional chart to visualize the data. Select the desired chart type by clicking the Chart button in the toolbar. The chart type options are:
Column
Stacked Column
Bar
Stacked Bar
Line
Area
Select None in the Chart drop-down list in the toolbar if you don't wish to display a chart.
Hover over a chart to display associated information:
Field Chooser and Available Fields
To control what your report's pivot table shows in each column and row, you select report fields in the Field Chooser menu: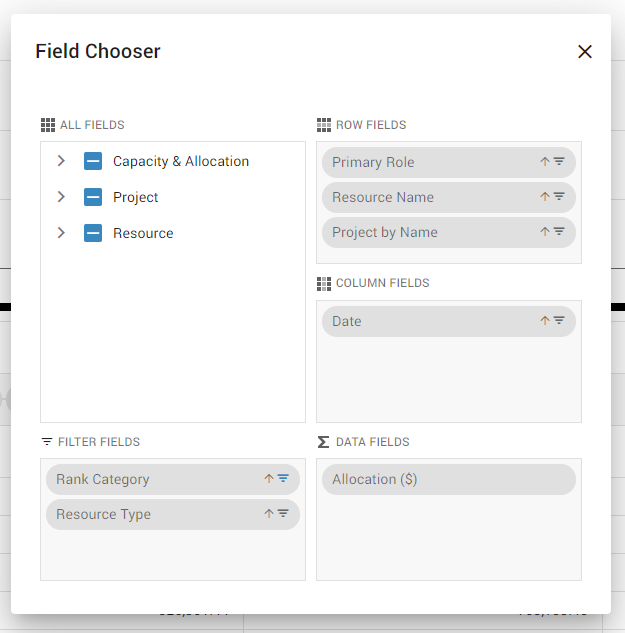 Field Chooser Areas
All Fields: select allocation, project and resource fields for grouping, filtering and displaying data.
Filter Fields: drag fields to this area to filter by their values. Click the funnel icon to select the desired values.
Row/Column Fields: drag fields to these areas to group by them.
Data Fields: drag fields to this area to display them.
Available Fields
Different fields are available in the field chooser depending on the type of integrated pivot report. See the individual articles linked in the The Report Types section to learn more.
The following restrictions apply to all types of integrated pivot reports:
Project fields of type Text and URL are not available
Skills specified for resources are not available
Other Functions
Remove Fields
To remove a report field, right-click it and select Remove Field:
Save Configuration
Users with either the According to Configured Report Rights or the All Reports right can save the current configuration of a report view by clicking the save button at the top right.
Please note that the Date Range, which can be set in the header, can not be saved for individual reports.
Interactive Report View Features
Sort: click any grouping field to reverse the sort order.
Filter: click the funnel icon on any filter or grouping field to filter the view. Search for field values by clicking the search icon. Use the Rank Category field to filter projects by rank: above Must-Have, Below Cut-Off or in between (Regular). Default: Must-Have and Regular.
Drag Grouping Fields: any row or column grouping fields may be rearranged via drag-and-drop. For instance, you may switch dimensions by moving all row grouping fields to the column area and vice versa. Or, you may change the grouping hierarchy by switching fields within the row or column area.
Display Details: click the small right arrow button on a row or column group to display its sub-groups (e.g., display quarters of a year, or months of a quarter).
Hide Details: click the small down arrow button of an expanded group to hide its sub-groups.
Expand All/Collapse All: right-click any row or column group and select Expand All to display all sub-groups of every row or column group in the report. Right-click and select Collapse All to hide all sub-groups.
Configuration
As with all Meisterplan reports, the name and viewing rights of integrated pivot reports are configured from the Reports view. You can read more about this in the article Reports View and Integrated Reports.
Depending on the report type, you can also configure options such as Allocation Unit or Time Unit using the toolbar in the respective report. For more information, see the following articles:
Exporting a Report
Click this toolbar button in order to export:
Pivot as Excel: export the current state of the pivot grid to Microsoft Excel. Groups will only be expanded if they are also expanded in the pivot grid at the time of the export.
Chart as pdf or image file: export the current state of the chart to a pdf, svg, png, jpeg or gif.
Included Templates
Each Meisterplan system includes pre-configured templates which can be used to create new integrated pivot reports at any time.
To create a new report from a template, open the reports view and click Add from Template in the toolbar: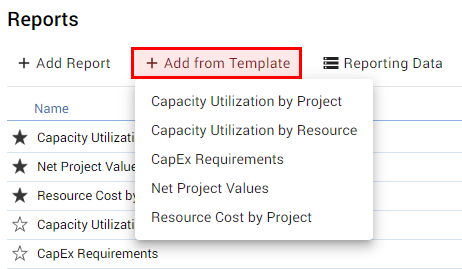 Creating reports from templates requires either the According to Configured Report Rights or the All Reports right. Find more details on configuring report rights in the Manage User Groups article.
The following table provides tips for how to use report templates as part of your portfolio and resource management process:
Report Name

Purpose

Target Group

Target Group Benefit

Process Step/Task

Capacity Utilization by Project
Provides an overview of resource utilization and resource demand by project.
"I would like to visualize the current capacity situation for management in order to set expectations on project delivery."

Decide
Long Term Scenario Planning

Capacity Utilization by Resource
Provides an overview of over- and under-allocation of roles and resources.
"I would like to receive concrete figures for the utilization of roles and resources in order to adjust the general capacity levels."

Decide
Long Term Scenario Planning

CapEx Requirements
Displays CapEx requirements by point in time and by project.

PMO
Portfolio Board
Project Controlling

"I would like to see at which points in time CapEx amounts are required so that I can provide it in time."

Execute
Portfolio Board Preparation

Net Project Values
Helps prioritize projects by net value and business goal.
"I would like to see the concrete net values of my projects in order to prioritize projects based on financial criteria."

Portfolio Board Preparation

Resource Cost by Project
Displays resource allocation cost by project.
"I would like to identify allocation costs of my projects so that I can meet the agreed project budget."

Collect
Execute
Budget Control