This article describes the skills view of the resource pool in Meisterplan.
Opening the Skills View
Select Skills in the list of data types to the left to open the skill view.
Overview of the Skills View
In the skill view, you can view, rename, add and delete skills.
The view displays a list of all skills in the middle. You can edit the name of the selected skill in the right panel.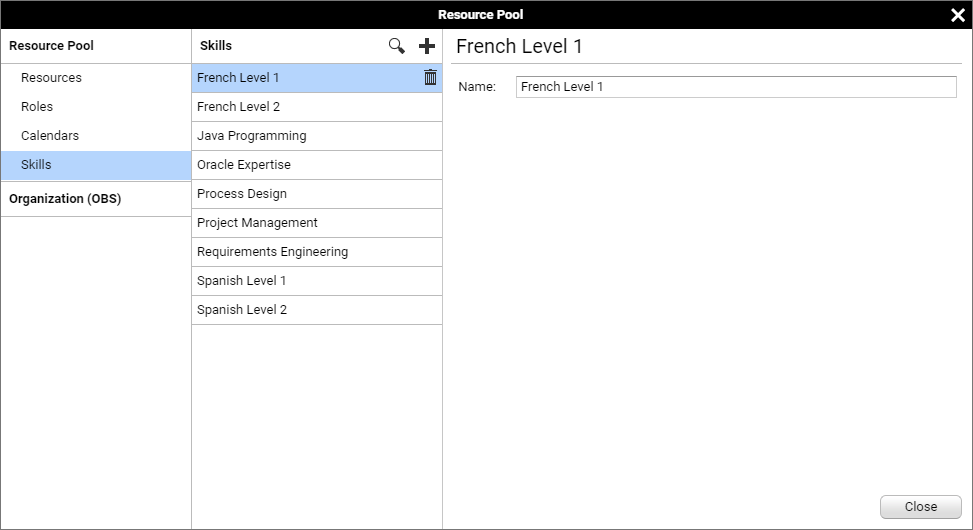 Renaming a Skill
To rename a skill, select the associated list item, then enter the desired name in the right panel.
Applying or Discarding Changes
Just as any changes you make in the resource pool except for deleting items, renaming a skill is preliminary.
Click Apply to save your change.
Click Discard to revert your change.
Searching Skills

Search Skills: click the magnifier icon above the skill list.
A search field will be displayed above the list. Enter a part of the skill name you are looking for to filter the skill list.

Close Search Box: click the X icon above the list to close the search field and reset the list, such that it displays all items again.
Adding a Skill

Add Skill: click the plus icon above the skill list. A new list item will be inserted for the new skill.
Name the skill in the right panel.
Click Apply to create the new skill.
Click Discard to cancel creating a skill.
Deleting a Skill

Delete Skill: to delete a skill, point at it and click the garbage can icon displayed in the skill's list item.
You will be asked to confirm the deletion. If you do, the skill will be deleted. Any resources the skill was assigned to will lose it.