In Meisterplan, you can either plan in calendar years or fiscal years, with calendar years being the default. This article explains how to work with fiscal years.
Configuring Fiscal Years
If you want to plan in fiscal years instead of calendar years, you simply configure two things: The starting month for fiscal years, and how fiscal years should be displayed. To do so, follow these simple steps:
Step 1: Open Manage > General Settings.
Step 2: Under Global Settings, select the desired month for Start of Fiscal Year.
Step 3: Select how fiscal years are displayed under Display Fiscal Year Based On. You can select if the year (e.g. "2019") should be based on the calendar year of the start month or the calendar year of the end month.
Below these settings, a text hint shows how Meisterplan will display fiscal years based on your settings: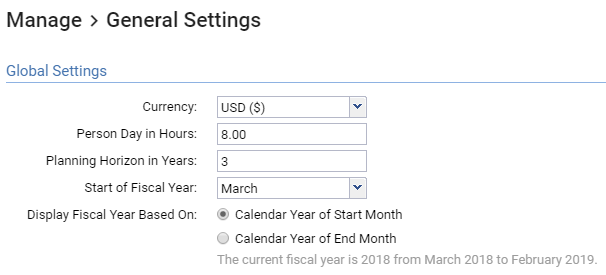 Where You'll Notice Fiscal Years in Meisterplan
In the Portfolio Designer, Meisterplan shows fiscal years at the top of the project Gantt chart:

In Meisterplan reports, years are grouped in the same way as displayed in the Portfolio Designer: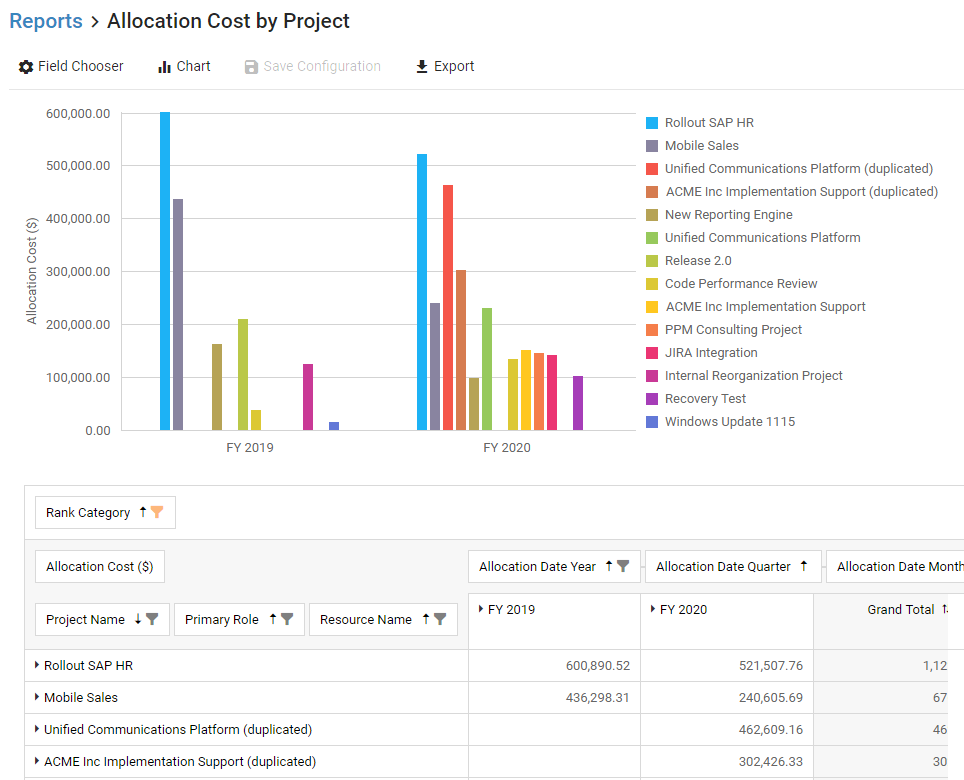 Impact on Portfolio Budgets
A couple of things regarding portfolio budgets work differently in Meisterplan depending on your fiscal year's start month. Please note that this is relevant even if you do not actively change the fiscal year starting month as shown above.
Restrictions on portfolio budget start dates
Depending on the fiscal year starting date as defined in Manage > General, only some start dates for portfolio budgets are permitted. The following table gives an overview:
| Plan budget by | Permissible budget start |
| --- | --- |
| Year | Fiscal year start month |
| Quarter | Any starting month of your fiscal year quarters |
| Month | Any month |
Budgets displayed in the Financial Section of the Portfolio Designer
Budgets will only get displayed in the Portfolio Designer if they have a permissible start date (see above). For other start dates, the budget will appear as if it were zero.