Once you have found the right use case and the right area for the launch, introducing the process begins. We will show you which meetings and roles you need for Lean PPM™.
Overview – the 4 Areas of Lean PPM™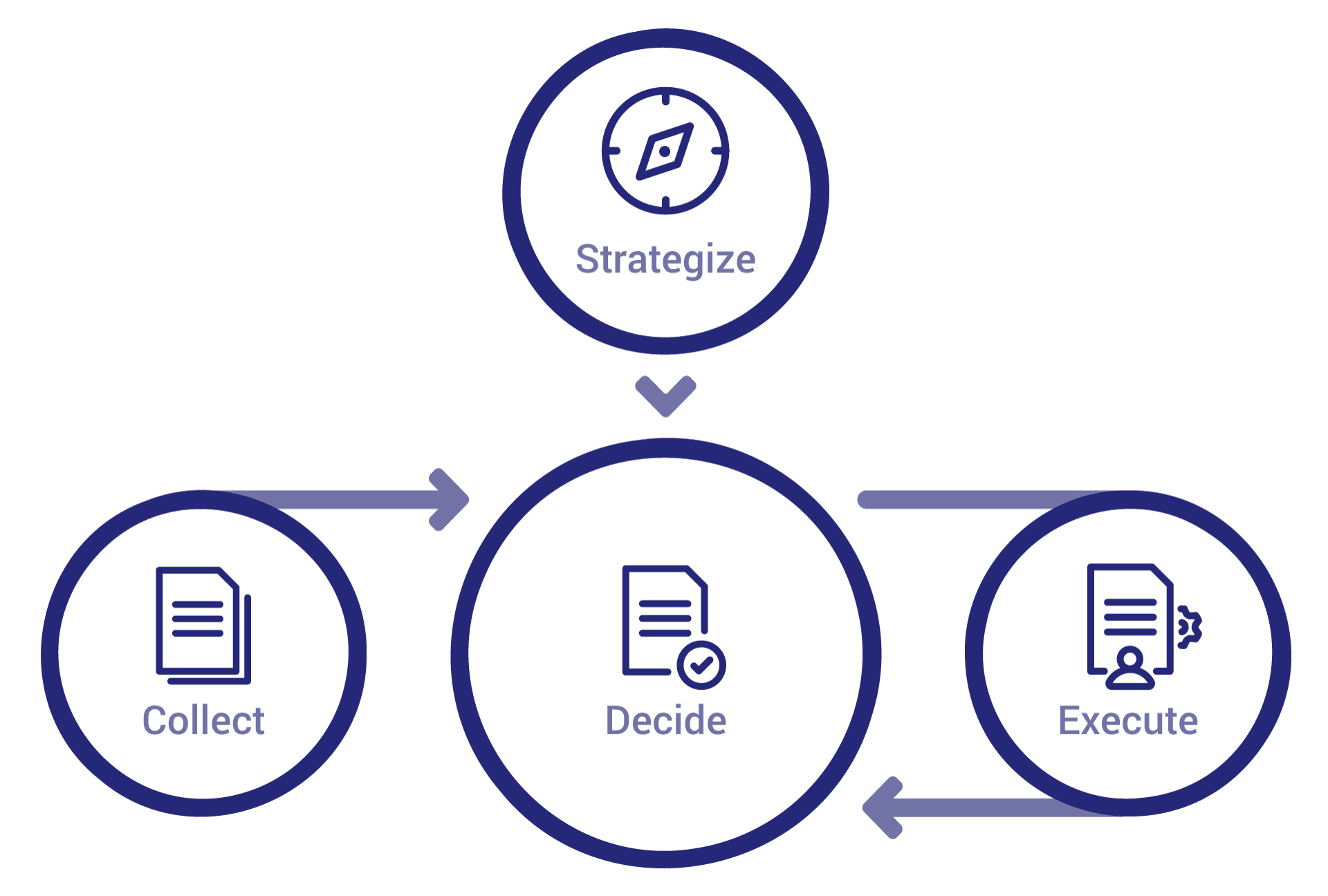 Figure: The 4 basic areas of Lean PPM™.
Lean PPM™ is the key to getting the right projects done at the right time and with sufficient resources. Lean PPM™ consists of four areas, most of which run concurrently and interact with each other:
In the Strategize area, evaluation criteria for projects are defined.
In the Collect area, new project initiatives are collected and evaluated.
In the Decide area, the composition of the portfolio is decided.
In the Execute area, the active project portfolio is controlled.
Meetings
This process is now managed through regular meetings with clearly defined participants, inputs and outputs.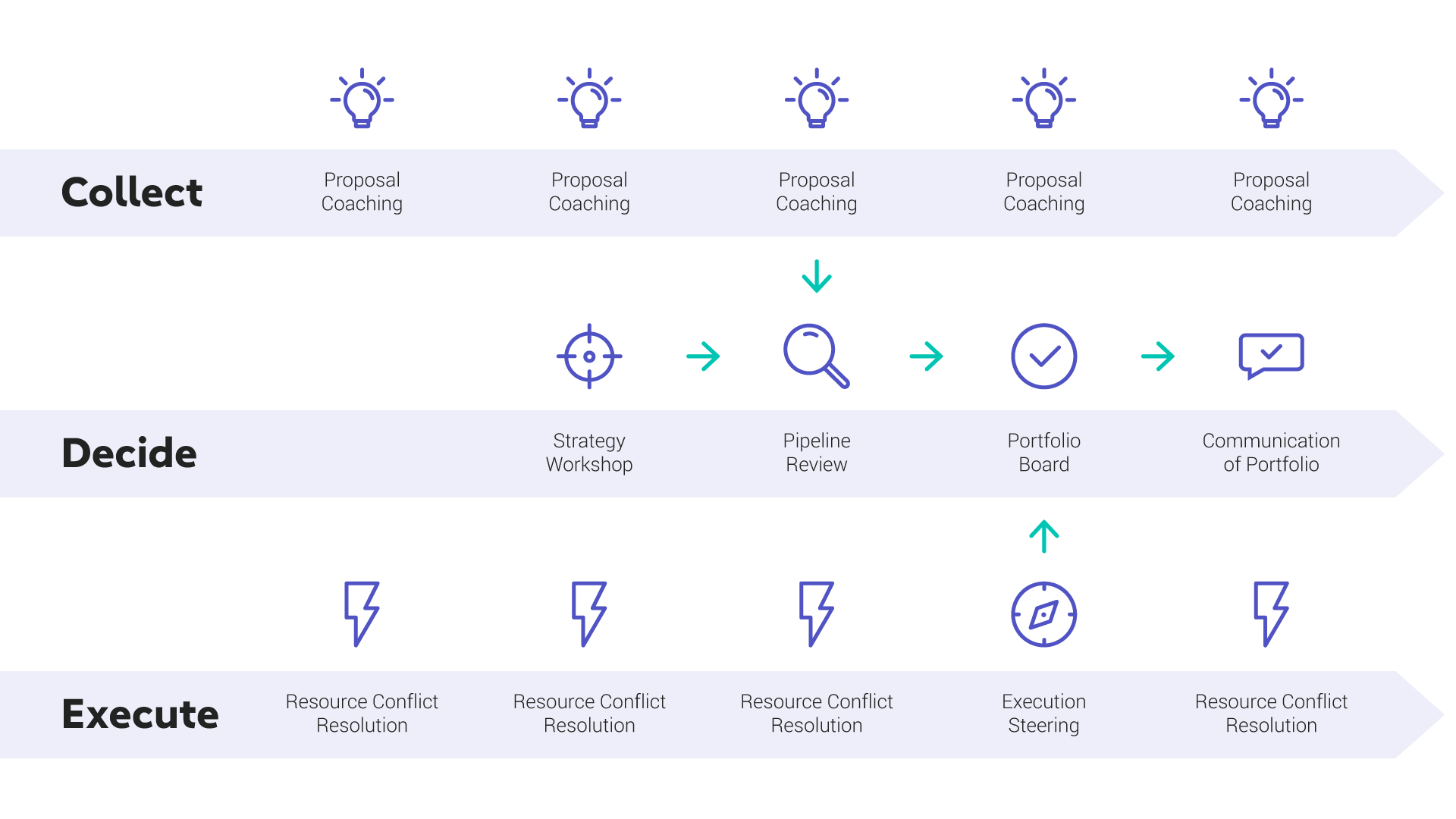 Figure: These meetings are essential for successful portfolio management.
For a detailed description of all meetings with participants, input and output, see Meetings in Lean PPM™.
Roles
In order for the meetings to succeed, the participants should be well-prepared and purposeful during the meeting. For this, it is essential that everyone involved in the Lean PPM™ process and understands their role.
Lean PPM™ Role

Lean PPM™ Responsibility

Typical Organizational Role

Initiator

Brings in initiative
Captures initiative and details it out in the project proposal
Presents project proposal to Pipeline Review Committee (if required)

Manager
Key Account
Manager
Expert

Portfolio Coordinator

Responsible for all or part of the company's project portfolio (e.g., for a business unit or a program)
Guides other roles through the entire process
Translates strategy into project prioritization criteria
Supports Initiator during idea phase, for example, by facilitating resource requirement estimates
Creates portfolio suggestions
Prepares decision-making meetings (outside of execution phase)

Head of PMO
PMO Team Member
Business Unit Manager
Program Manager
IT Coordinator

Pipeline Review Committee Member

Reviews, evaluates and prioritizes initiatives

Department Managers
Business Experts

Portfolio Board Member

Responsible for seeing strategy through to execution by using successful project portfolio management
Exerts control over active portfolio
Makes decisions regarding issues in active portfolio
Decides on the future project portfolio and the respective budgets

Project Manager

Reports project status
Reports project resource requirements
Escalates project issues
Presents project to decision-making board (if required)

Project Manager

Resource Manager

Ensures correct mapping of resources to roles & skills
Staffing: (re-)assigns resources to projects
Resolves day-to-day/tactical resource management issues

Team Lead

Team Member

Works on assigned projects

Any employee

Execution Steering Member

Responsible for executing strategy through individual projects
Exerts control over active projects
Makes decisions regarding issues in active project
Resolves project management challenges

Department Manager
Senior Manager
Executive

HR Department

Keeps employment records up-to-date, including hire/termination date, departmental allocation, work schedule, holidays

Strategy Manager

Works with Portfolio Coordinator to translate strategy into evaluation criteria (strategy workshop)
Table: These roles contribute to sucessful project portfolio management.
To learn more about Lean PPM™, visit our website at meisterplan.com/project-portfolio-management.
Next step: Customizing Meisterplan