Availability All Editions
Use the Microsoft Teams Meisterplan application to keep up to date on your organization's projects without interrupting your normal workflow.
How the Microsoft Teams App Can Help You
The Teams application makes it simple to stay up to date with the relevant information in Meisterplan. Our app allows you to receive automatic notifications in a private chat on Teams when someone mentions you in a comment or makes changes to one of your projects. This makes it easy to keep up with the latest updates, allowing you to know immediately when a project needs your attention.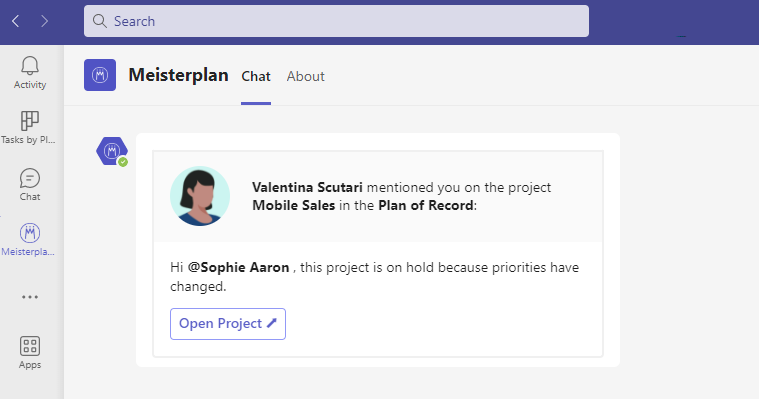 How the Teams App Works
Required Rights
Each user can connect their Meisterplan access to Teams to receive notifications in a private chat. The notifications a user receives in this chat are in accordance with their user rights in Meisterplan. It is not possible to add other people to this chat.
Setting up the Teams App
To use the Meisterplan app in Teams, follow these steps:
Open your Microsoft Teams application. You do not need to have your Meisterplan open to use the application in Teams.
In the left sidebar of your Teams, select Apps. Then, type Meisterplan in the search bar to find the app.

Select Meisterplan EU if your system is hosted in Europe, or Meisterplan if your system is hosted in the USA (here is how you can check where your system is hosted). To add the app to your Teams, click Add.
Once you have added the app to your account, you can sign into your Meisterplan within your Teams window. Type login or signin and enter in your normal login in data, or access your system via SSO:

After signing into Meisterplan, you will receive direct notifications in Teams whenever relevant changes are made in your Meisterplan system, such as when you are mentioned in a comment, or a change is made to a project on which you are a project manager in Meisterplan.
To sign out of Meisterplan, simply type logout or signout and hit ENTER. You will be logged out of your Meisterplan system and will no longer receive notifications.
Commands in the Teams App
The following is the list of commands you can type in the Meisterplan app in Teams. To perform a command, type it into the chat in the Meisterplan app.
| | |
| --- | --- |
| Command | Result |
| login OR signin | Meisterplan Log-In Page |
| logout OR signout | Sign out of your Meisterplan account in Teams. You will no longer receive Meisterplan notifications in Teams. |
| help | Get an overview of all commands, as well as a link to the Meisterplan Help Center. |
What Information Can Be Viewed in the Meisterplan Teams App
The following information is currently available in the Meisterplan Teams app:
Project Information (for projects on which you are assigned as the project manager or another custom resource field)


You are assigned as a project manager
One of your projects' start date changes
One of your projects' end date changes
One of your projects' rank changes
One of your projects' rank category changes
One of your projects' project field changes
One of your projects are added to or removed from a program
Whenever a project is submitted from a scenario or the Plan of Record to the scenario or the Plan of Record

Comments

You are mentioned in a project or allocation comment
A colleague leaves a comment on one of the projects on which you are listed as the project manager or a custom resource field
A colleague leaves an allocation comment on a role or a resource for which you are listed as the resource manager