Availability All Editions
My Projects is a view for project team members that gives a summary of their information as well as a clear overview of the projects they are assigned to, the timeline of those projects, and much of their capacity is allocated for each project.
Where to Find
In the left-hand sidebar, click My Projects to open the view.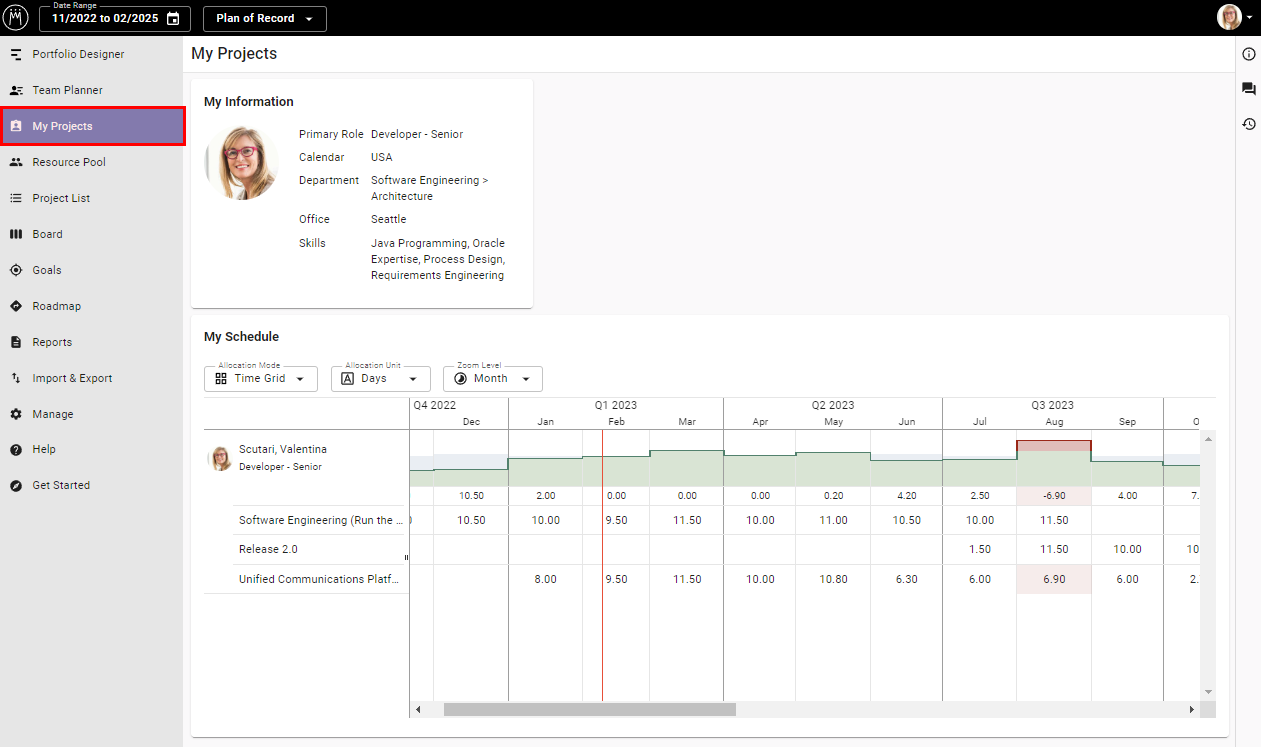 Toolbar
To define which projects are displayed, select Date Range and/or Scenario in the header at the top of your screen.
Information Panel
Click one of the icons in the right sidebar to open the Information Panel. When you select a project, you can find its Overview, Comments and Change Log there. You can also view the Allocation Change Log for the linked resource here.
Required User Rights and Settings
To view the My Projects View, you do not need any specific User Rights. To open the detail view of a resource in the Resource Pool, you need to have the Edit Resource Pool, Absences, OBS, Calendars and Skills right.
The My Projects view only works if your user is linked to a resource. Learn more in the articles Resource Pool - Resources and Configuring User Accounts.
Available Information
The content of this view is only visible to the user with the linked resource. It is a read-only view, meaning that nothing in the My Projects view can be edited in the view itself.
My Information
In the top half of the My Projects view, you will find the My Information window. The following information can be found there:
User Picture
Primary Role
Calendar
OBS Fields
Skills
This information is taken from the resource details.
My Schedule
The bottom of the My Projects view is My Schedule. Only the projects the resource is assigned to, the resource's allocations, and the resource's remaining capacity, will be displayed.
How to Configure My Schedule
You can view My Schedule in either the Time Grid or the Flexible allocation mode that you can also find in the Team Planner.
The allocation unit (days, hours, FTE), and the zoom level (year, quarter, month, week) can be adjusted by the viewer. If a user logs out and then logs back on, the allocation unit and zoom level will stay as they have adjusted it.