Availability All Editions
We are excited to introduce Project Comments that allow you to exchange information on the project level directly in Meisterplan. This helps you keep your colleagues up to date and gives you access to project communication exactly where you need it.
How Project Comments Can Help You
Ensure you and your colleagues are always up to date on all project information by adding comments to a project in Meisterplan. With this beta version, you will be able to leave comments in the information panel of a project to exchange information with other Meisterplan users. This lets you keep all important project information in one easy location.
As the Comments feature is further developed, you will be able to mention and notify your colleagues of open questions, action items or other important project information.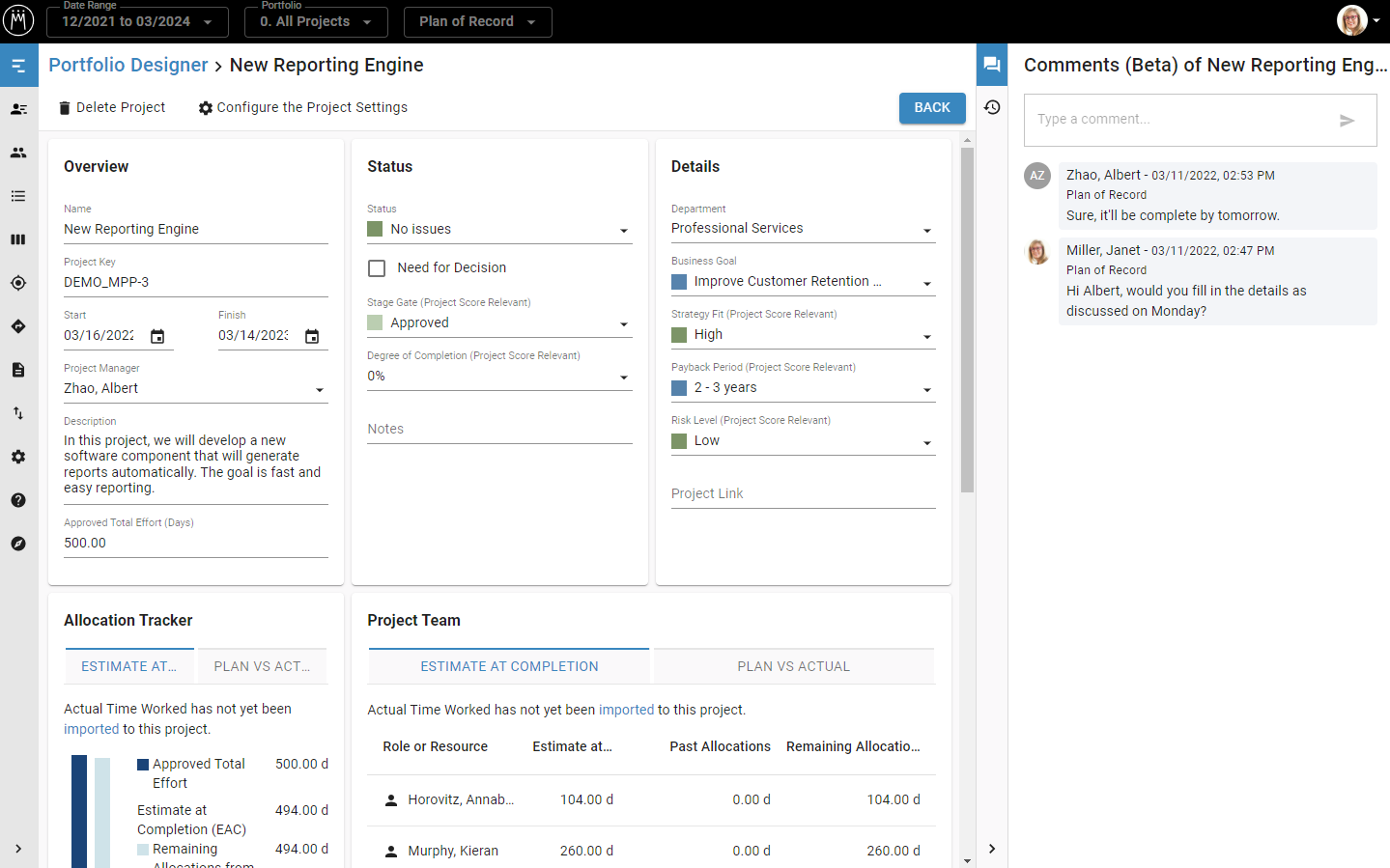 The Comments functionality is available in all Meisterplan systems as a beta version.
How Project Comments Work
Required User Rights
Project Comments do not require specific user rights. Every user can see and add comments to all projects.
Where to Find Comments
Select a project and click the comments icon in the right sidebar to open the Information Panel in your view. You can find Project Comments in the following views:
Portfolio Designer
Team Planner
Project List
Board
Roadmap
Project Comments are global and identical across all scenarios. Below the time stamp, every comment displays the scenario in which it was created. This helps you understand which project version the comment refers to.
How To Add and Delete Comments
Click the comment field and enter the desired text:

Next, click the send icon. Your comment will be displayed with your name, the time stamp and the scenario in which you added your comment.
To add your comment, move your cursor over the comment and click the trash can icon. You can only delete your own comments.
What Will Be Added in the Future
We are continuously improving the Comment functionality. The following features will be implemented in the near future:
Mention and notify your colleagues in your comments.
Receive email notifications when:

a comment is added to a project on which you are the project manager
you are mentioned in a comment on any project

Verify your email address to be able to receive email notifications.
Choose whether you want to receive email notifications in your user profile.
Meisterplan Terms of Service Conditions for Beta Features
The use of Beta Features is subject to the Meisterplan Software as a Service Terms and Conditions of the itdesign GmbH, Friedrichstr. 12, DE-72072 Tuebingen, Germany for the EU hosting region and Meisterplan USA, Inc., 800 5th Avenue, Suite 101-800, Seattle, WA 98104 for the US hosting region (hereinafter referred to as "Provider") and the following different terms, which take priority. By using the beta features, you agree to the Meisterplan Beta Conditions on behalf of the company for which you work.
You understand that beta features within the generally available Meisterplan cloud application are still under development, may not be functional or may be incomplete, and are more likely to contain bugs than the generally available Meisterplan cloud application. Please note that the use of beta features may have an impact on performance when using the Meisterplan cloud application.
The provider does not guarantee that beta features will ever be made generally available.
The provider does not assume any obligations or liabilities with respect to the beta features, including any warranty and compensation obligations to the extent permitted by applicable law.