Use copy and paste to easily import Actual Time Worked into Meisterplan from spreadsheets. This helps you plan your portfolio with the most up-to-date data. You can find more information about Actuals in the Actuals – Time Worked article.
In this video we will show you the basics of how the Quick Import works, using the project import as an example:
<INSERT VIDEO>
Prerequisites
Required User Rights
For importing Actual Time Worked as described in this article, you need to have the following rights:
Under Project and Program Rights, you need to have either the Projects with Logged-In User as Project Manager or the All Projects and Programs option enabled
UnderAccess Actual Time Worked, you need to have the Read and Edit via Import option enabled
Under Integration Rights, you need to have the Import and Export Data right enabled
To import Actual Time Worked while you are in the Plan of Record, you need to have the Edit Plan of Record right to access the respective projects. To import Actual Time Worked while you are in a scenario, you need to have edit rights for this scenario to access the respective projects.
Actual Time Worked is not scenario-specific!
Actual Time Worked is global, that means it is available in every scenario that contains the respective project, including the Plan of Record.
For more details on how to configure user rights, see the Manage User Groups article.
Supported Formats
You can import data from all common spreadsheet formats, such as Microsoft Excel (both the desktop application and the Office 365 version) and Google Sheets.
How to Find
In the Portfolio Designer, click Import and Export and select Quick Import to open an overview of all copy and paste imports from spreadsheets: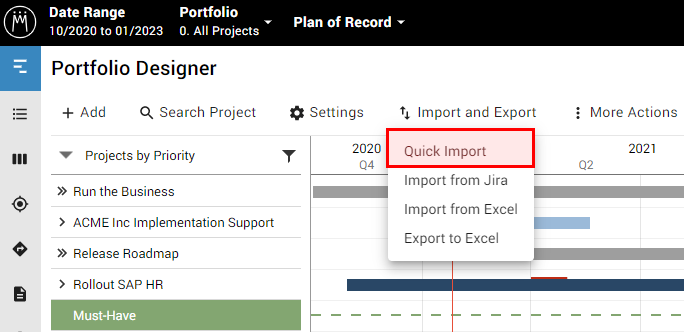 Step 1: Choose Type of Data and Prepare
Click Actual Time Worked: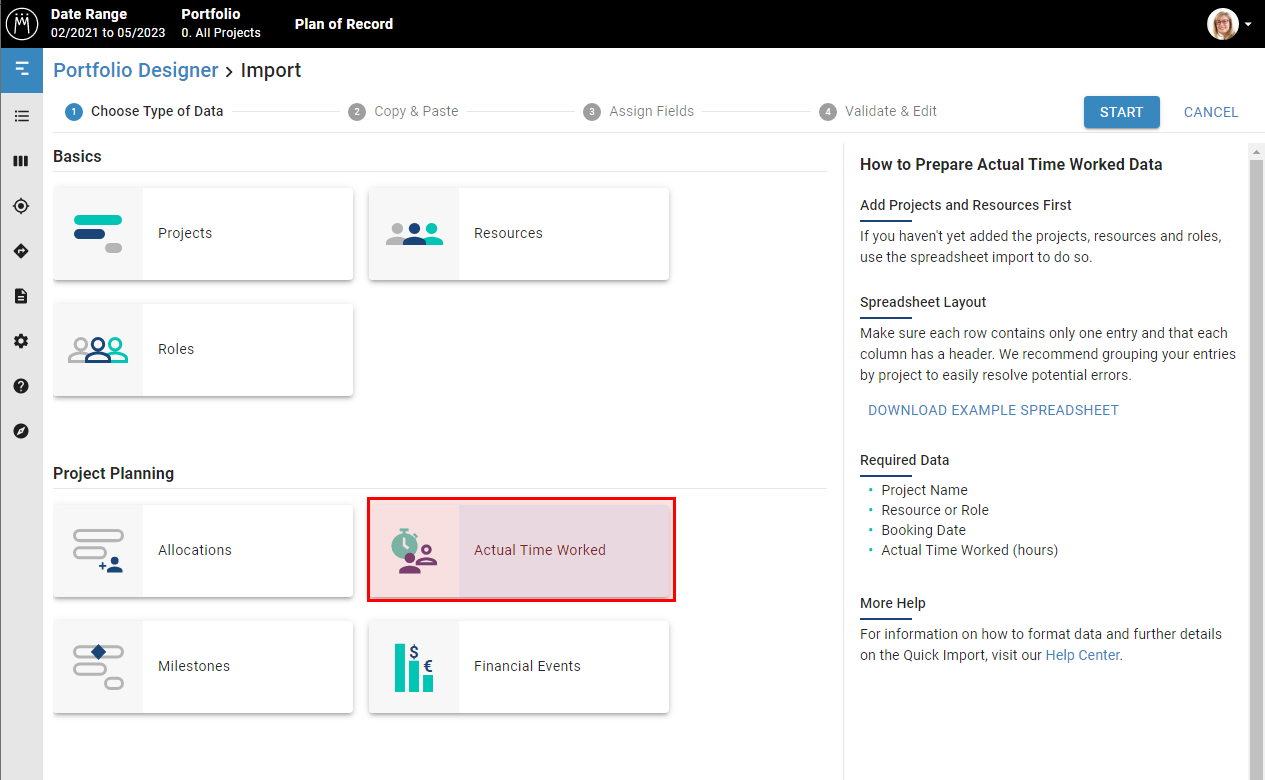 You can add Actual Time Worked and update them with this import. Find information about how Actual Time Worked can be updated here.
Download Example Spreadsheet
If you don't have a spreadsheet of Actual Time Worked on hand, download our example spreadsheet. This example serves as an outline for configuring your Actual Time Worked related data. You can also use the example spreadsheet to run a test import in your Meisterplan system.

To successfully import Actual Time Worked, the spreadsheet from your time-tracking tool should contain one line per entry and a column for each for each data field.
Fields That Can Be Imported
Project Name: name of an existing project in Meisterplan
Resource or Role: email address or name of an existing resource or role in Meisterplan, does not have to be allocated to the project
Booking Date: date to which the Actual Time Worked entry from your time-tracking tool refers; there must not be two entries for the same project and the same resource with the same booking date; see below for more details on the booking date; for the correct format see here
Actual Time Worked (hours): number of hours incurred on a project for a resource or role in your time-tracking tool dependent onthe booking date; for the correct format see here
What's the booking date?
The booking date is the date to which an Actual Time Worked entry in your time-tracking tool refers. Some tools track time worked per day, some per months, some allow custom dates.
You can import Actual Time Worked in single entries for each day, or summed up over the course of several weeks, or even a mixture of both. The hours imported in Meisterplan will be summed up per project to compare them to the planned allocation hours.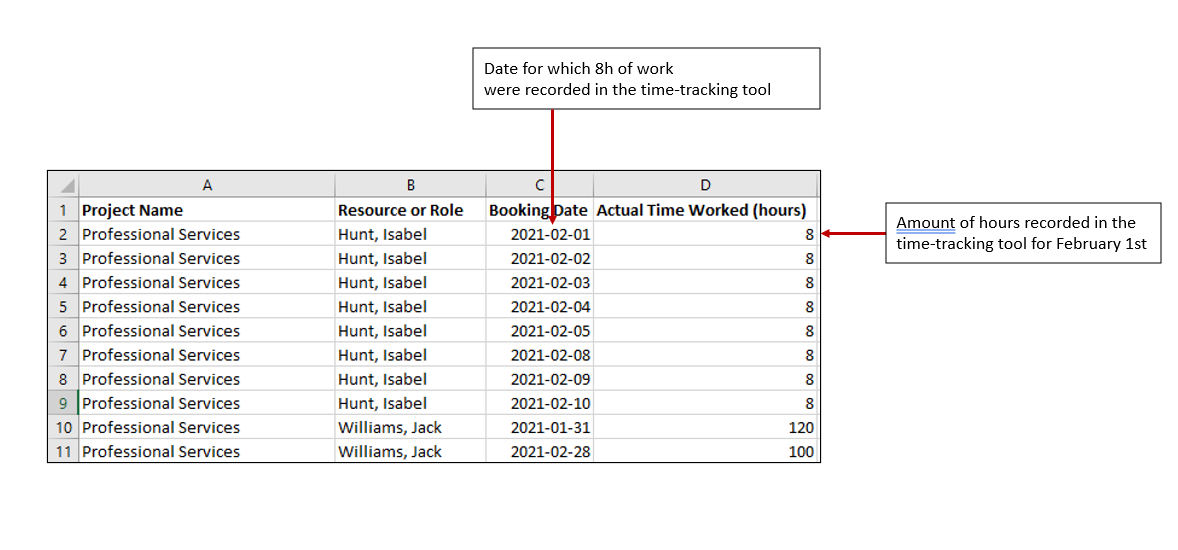 Example: From February 1st to 10th, the time-tracking tool exported 8 hours of work per day for Isabel Hunt on the Professional Services project. For Jack Williams who worked on the same project, monthly entries are exported.
Date and Number Formatting
To successfully import date and number fields, follow the formatting standards below:
Date Fields
To correctly import dates into Meisterplan, your spreadsheet and browser language or locale settings (e.g., English – United States) must match. Your selected language in Meisterplan is not relevant in this case and may differ.
To import dates successfully:
Enter your dates in the YYYY-MM-DD format and the date format will be updated based on your browser language settings.
Compare the language settings of your browser and your spreadsheet to ensure they are set to the same language. Some browsers distinguish between the language they use to display websites and the language for their own menus - the former is relevant when importing data.
Number Fields
To successfully import numbers with decimals (e.g., 2.5 FTE in English, 2,5 FTE in German), your spreadsheet and browser language also need to match (see above). If they don't match, the number will not be imported, and you will get an error message.
To import numbers successfully:
Do not use a thousands separator (e.g., $10,500) because they will not be recognized and could be misinterpreted as decimals separators.
Enter only positive numbers, negative numbers (e.g., -5 hours) will cause an error message.
Do not add units such as currency (e.g., $ or €). Your Meisterplan system will automatically use the currency selected in the left Sidebar under General Settings.
Step 2: Copy & Paste
Copy the desired data from your spreadsheet and paste the data in Meisterplan (e.g., using CTRL+V). In this step, you can copy and paste different data as often as needed.
Step 3: Assign Fields
If your imported column name matches an existing field in Meisterplan, Meisterplan will assign it automatically. If you'd like to change or add a field assignment, just drag and drop the Meisterplan field to the desired location. This step ensures your spreadsheet data maps to the appropriate Meisterplan field.
Step 4: Validate & Edit
Validation and Error Correction
In this step, you can validate and edit your Actual Time Worked before import. Simply edit the highlighted field by clicking on it. Fields highlighted in dark red indicate an error that will prevent the complete line (i.e., the booking date) from being imported.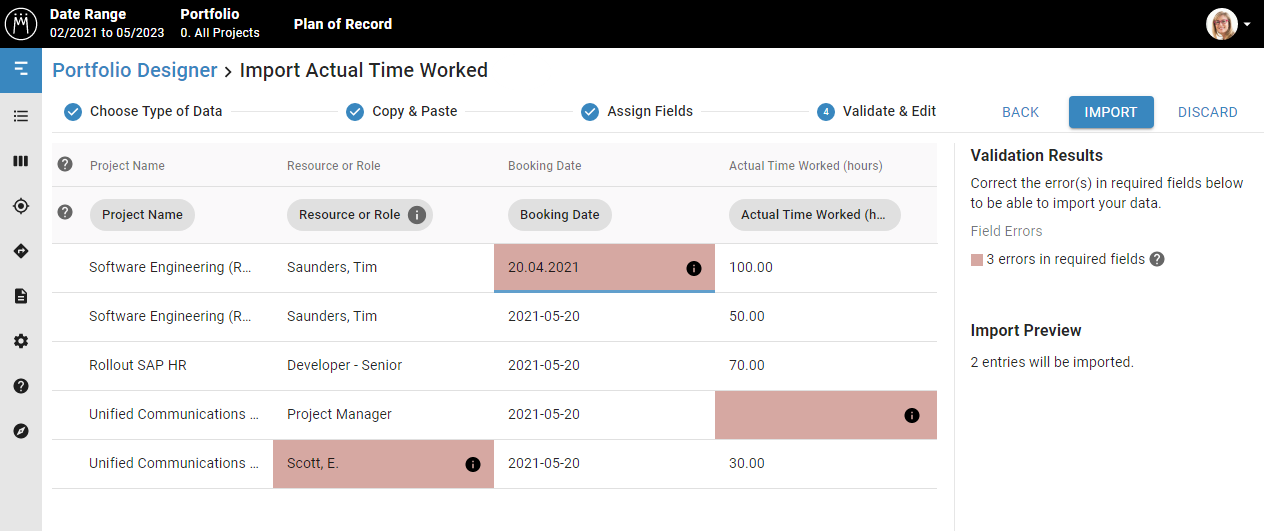 Once you've corrected all errors, click Import. Your data is now available in Meisterplan.
Update Existing Booking Dates
If you have already imported 40 hours in Meisterplan for January 31st and now import 45 hours for the same date, the older entry will be overwritten. In order to delete an entry, simply import 0 hours of Actual Time Worked for this booking date. You can import many entries for the same project and the same resource or role, but their booking dates in your spreadsheet must not be identical.
We recommend importing no more than 10,000 entries at once.
Result
Imported Actual Time Worked
Once you've clicked Import, you will be able to view the Actual Time Worked in a project's details.