Add your resources, projects and allocations to Meisterplan as a basis for making your own plans.
How to Prepare Your Meisterplan System
To bring your data into Meisterplan more easily and start planning faster, we recommend to prepare Meisterplan as follows.
Deleting Sample Data
If you want to focus on your own data, you can delete the sample data provided in Meisterplan trial systems. To learn how to do this either with one click or manually, go to the Delete Sample Data article.
Configuring the Basics
Before you start adding your own resources and projects, we recommend to configure certain basic elements of Meisterplan according to your company's needs and practices. Once these elements correspond to how they are named in your organization, it is a lot easier to bring your data into Meisterplan.
Have a look at these configurations and change them if necessary:
Roles: Configure the roles your company uses, for example,

"

Project Manager".

Project Phases: Define the typical phases your projects pass through, for example, "Planning".

OSB Units: Configure your company's organizational structure. You only need to configure the top level, for example, "department". You can add sub-units later with the Quick Import.

Business Goals: Configure your organization's business goals, for example, "Increase Revenue".

Project Fields: Create your own projects fields to define which details you need in your projects, for example, "Stage Gate". Next, configure the fields in the project settings so they appear in your project details.

Have Your Own Data Ready
To start planning in Meisterplan, you need to have your resources, projects and allocations ready.
We recommend to prepare the following basic details:
Resources: last name, first name, email address
Projects: project name, start date, finish date
Allocations: start date, finish date, allocation value (in FTE, hours or days)
How to Add Your own Data to Meisterplan
Once you have prepared Meisterplan according to your needs and prepared your data, you can bring your data into Meisterplan. There are several options how to do this. Learn below which option is recommended for which data.
Adding Data Manually
If you have only a few projects, resources and allocations, you can simply add them manually to Meisterplan.
Resources are added and edited in the Resource Pool:

For details on how to manually add resources, see the Managing Resources article.
Projects can be added and edited in different views, for example, in the Portfolio Designer: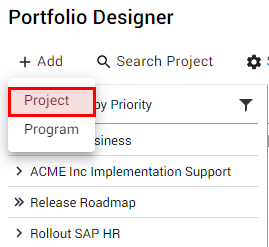 For details on how to manually add projects, see the Adding, Editing or Viewing a Project article.
Allocations are added and edited in the Portfolio Designer:
For details on how to manually add allocations, see the Assigning Employees to Projects article.
Quick Import
If you have a larger number of projects, resources or allocations in a spreadsheet, you can simply import them into Meisterplan via copy and paste using the Quick Import.
This video will show you the basics of how the Quick Import works, using the project import as an example:
To save time and effort, we recommend you import your data in the following order. If, for example, you import resources first, you can import each project's project manager when importing projects.
Importing Data from Other Tools
If you maintain data in another application, such as Smartsheet or Jira, use one of our integrations or our REST API to connect your tools to Meisterplan. Depending on the connection, you can also set up an automatic data synchronization between your tool and Meisterplan to save time.