Availability All Editions
Depending on whether you want to finalize your yearly forecast or plan resources on a weekly basis, you'll want to view your projects either in their entirety or by time period. You can control the level of detail in which you view your projects and allocations in Meisterplan using the zoom level.
In the toolbar of the Portfolio Designer and the Team Planner, you'll find four zoom levels:

The focus of the RoadmapPro Premium is on the long-term view. You can choose between three zoom levels:

Zoom Levels
Year: You're planning a research project consisting of several sub-projects and would like to calculate how many additional resources you'll need in the coming years to complete the project on schedule: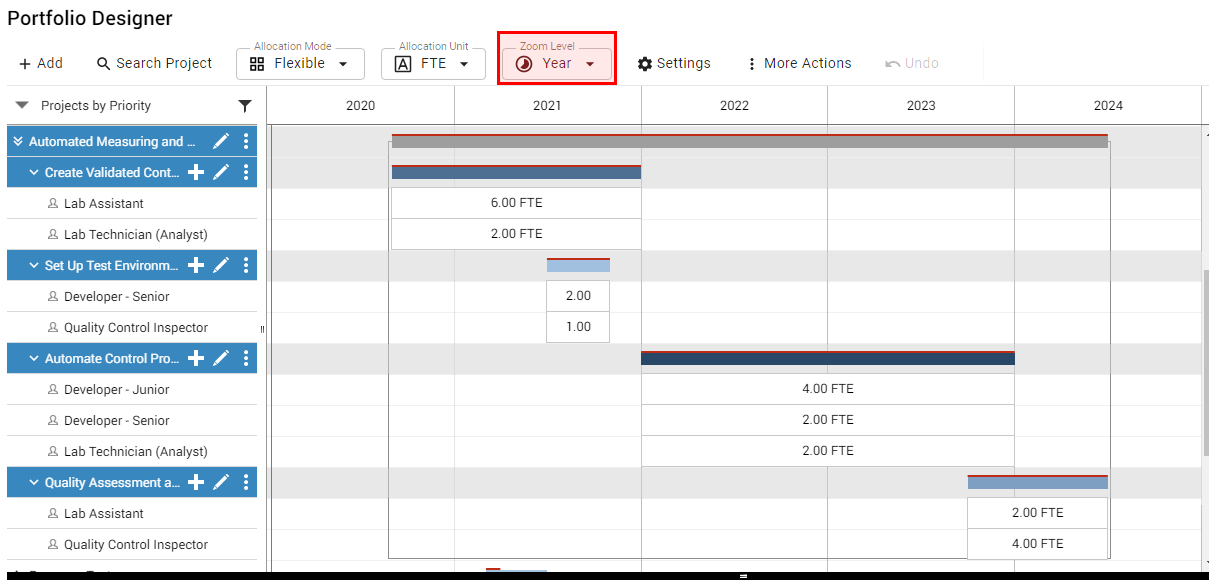 Quarter: You plan for the upcoming quarter in your quarterly meeting and want to prioritize both current and new projects: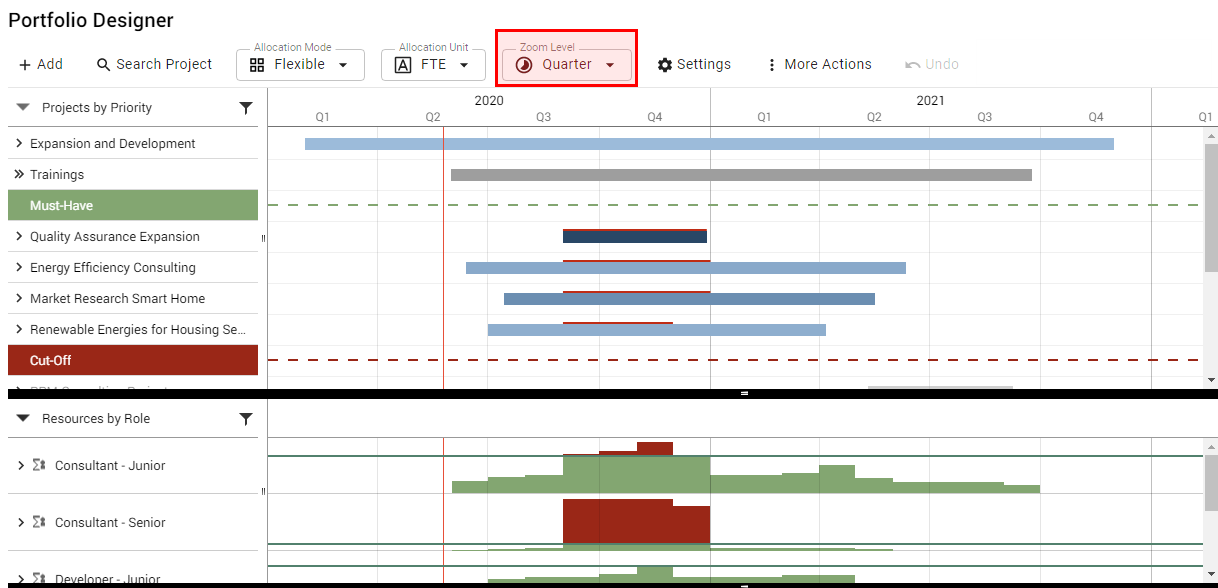 Month: You regularly check your current projects in a status review and would like to take a specific look at projects with a critical status to decide whether you need to take action:

Week: For planning purposes, you want to see how your project resources will be utilized in the coming week:

Impact on Resource and Financial Sections
In the resource section, the intervals in the allocation view are always one zoom level above the one selected: With the Year zoom level, allocations are subdivided into quarters; with the Quarter zoom level, allocations are subdivided into months, and so on. This allows you to immediately see if the workload varies within the zoom level and, for example, whether a resource is only used for three out of four weeks in a certain month.
In the financial sectionPro Premium, the intervals are always one zoom level below the one you selected: With zoom level Week, the values are aggregated by month; with zoom level Month, by quarter; and with zoom levels Quarter or Year, by year.
Time Grid and Zoom Level
Use the Time Grid to plan your workload in detail. When you select Time Grid under Allocation Mode, the allocation view is preconfigured according to the selected Zoom Level.