This article shows you how to create Meisterplan user accounts in a few easy steps.
Required Access Level
You need the Administrator access level to add users to Meisterplan.
Step 1: Creating a New User
Proceed as follows to create a new user:
In the left hand side sidebar, under Manage, open the Users view.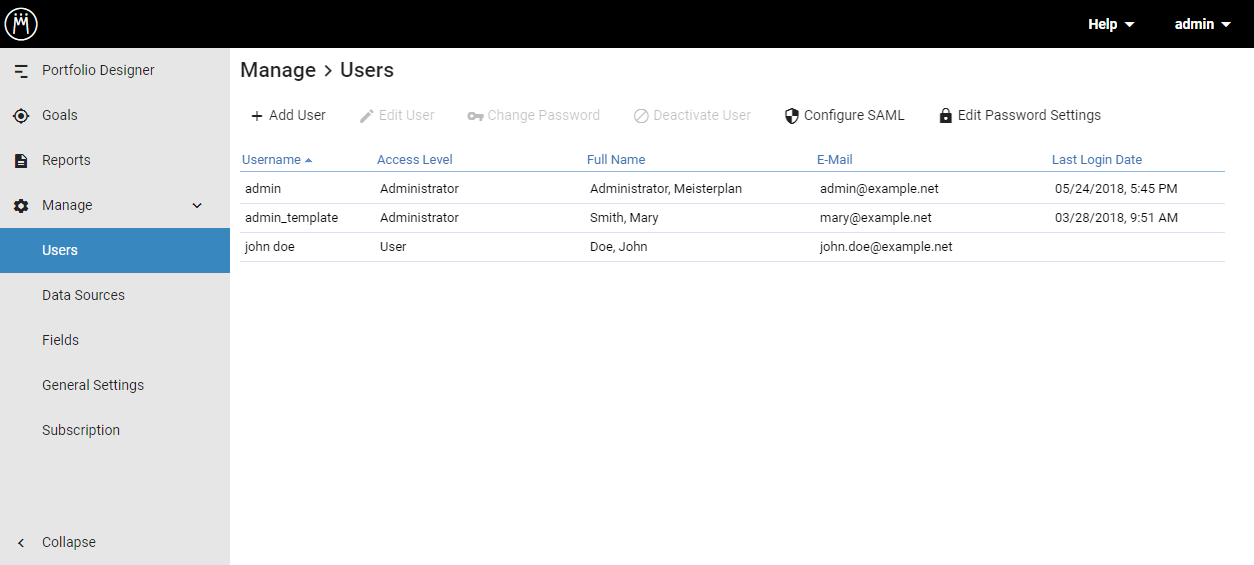 Here, click the Add User button in the toolbar.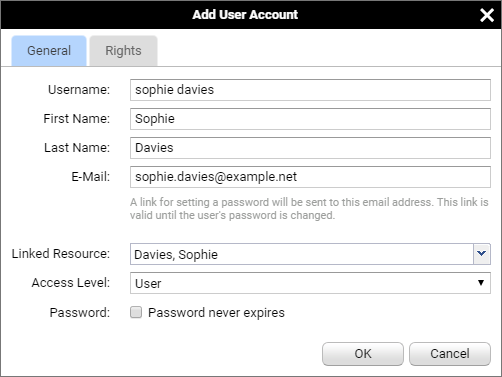 Next, enter a username, first and last name, email address, access level, language, and locale.
If the new user is already existing in Meisterplan as a resource, you can select him in the Linked Resource field. Please note that this setting is required if the user would like to access Meisterplan via the MyProjects mobile app.
You can specify that this user's password should never expire, thereby overriding the general setting.
For more information, see the Manage Users article.
Step 2: Configuring User Rights
After you have entered the account details, you need to define what that user can and cannot do in Meisterplan:
Which portfolios, reports, and project fields should the user have access to?

Select at least one portfolio.
New users initially have access to all reports and project fields.
Deselect items to remove access to them.

Which scenarios should the user be permitted to edit?

All users may view all scenarios.
Editing scenario data requires edit rights.

Should the user be able to edit the Plan of Record?
Should the user be able to sort the Project List by Project Score?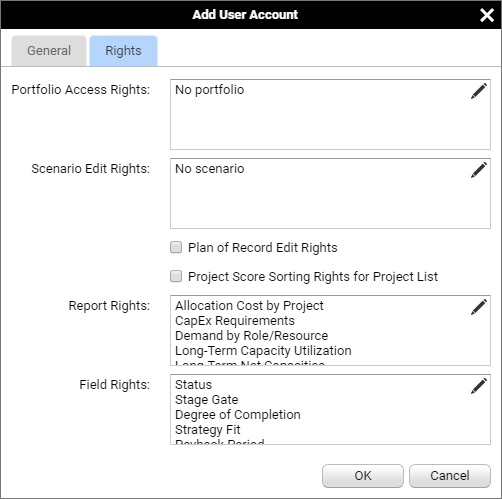 Please note that every user must have access to at least one portfolio.
For more information, see the Manage Users article.
Step 3: User Sets Password
In the last step, the new user sets a password:
The new user will receive an invitation e-mail containing a link for setting a password and information about logging in (user name and login link).
If the user couldn't set a password via the link (e.g., because the e-mail was accidentally deleted), he can also do this via the Forgot Your Password feature on the login page. To do this, you should tell him his user name and the login link:
Alternatively, administrators may set a password by selecting the new user in the Manage > Users view and clicking Change Password. Please note that this invalidates the link in the invitation e-mail for setting a new password.