This article shows you how to create users for your Meisterplan in a few easy steps.
Requirements
You need to have the "Administrator" access level in order to add users to Meisterplan.
Step 1: Creating a New User
Proceed as follows to create a new user:
Click the three horizontal bars in the upper right-hand corner of the Meisterplan screen to open the main menu.
Select Settings to open the settings.
Switch to the User Management tab:
Here, click the Add User button in the toolbar.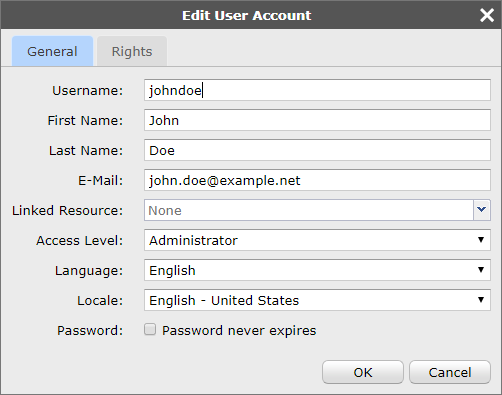 Next, enter a username, first and last name, email address, access level, language, and locale.
If the new user is already existing in Meisterplan as a resource, you can select him in the Linked Resource field. Please note that this setting is required if the user would like to access Meisterplan via the MyProjects mobile app.
You can specify that this user's password should never expire, thereby overriding the general setting.
For more information, see the User Management article.
Step 2: Configuring User Rights
After you have entered the account details, you need to define what that user can and cannot do in Meisterplan:
Which portfolios, scenarios, reports, and project fields should the user have access to?
Should the user be able to edit the Plan of Record?
Should the user be able to sort the Project List by Project Score?
Please note that every user must have access to at least one portfolio.
For more information, see the User Management article.
Step 3 (optional): Set Password
There are two ways to set the new user's password:
The administrator sets a password by selecting the new user in the User Management tab in the Settings and clicking Change Password.
The user sets a password by opening the login page and clicking Forgot Your Password.
Step 4: Notify User
Regardless of which way you chose to set the password for the new user, let him know that you added him to your Meisterplan system.
The following information is helpful for new users:
Where the user can log in
The user's username
The user's password, if it has been set by an administrator (see Step 3)
Instructions on how the user can set his password himself on the login page, if the password has not been set by an administrator (see Step 3)