This article describes how to configure proxy servers for using them with Meisterplan.
Meisterplan Configuration
See the "Proxy Server Properties" section in the Configuration Properties.
Web Sockets
The proxy server has to support web socket connections and server sent events (SSE).
Web Sockets with Microsoft Internet Information Services (IIS) as Proxy Server
When using IIS as proxy server, you have to run the Meisterplan Tomcat service without built-in web socket extensions:
To disable the extensions, run the Meisterplan Tomcat service with the "-Dorg.apache.tomcat.websocket.DISABLE_BUILTIN_EXTENSIONS=true" option.
You can add this option on the "Java" tab in the Tomcat service settings by running "%MEISTERPLAN_HOME%/tomcat/bin/tomcat7w.exe //ES//MP_Tomcat" on the command line.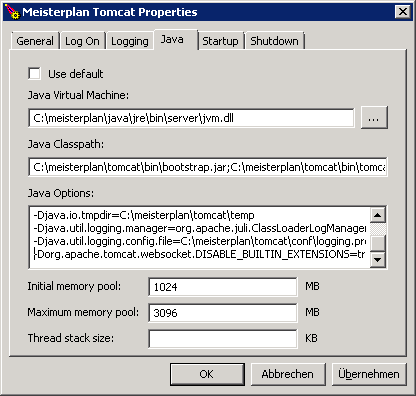 Web Sockets with Apache HTTPD as Proxy Server
When using Apache httpd as proxy server, there is an example configuration with web sockets in section "Apache httpd as a proxy for Meisterplan" on this page 
X-Forwarded-* Headers
When the proxy server is used as reverse proxy and does url rewrite than the following header variables have to be supported:
X-Forwarded-Proto
X-Forwarded-Host
X-Forwarded-Port
HTTP Methods
The proxy server has to allow the following HTTP Methods:
GET
POST
PUT
DELETE
OPTIONS
PATCH