This article describes configuring and installing the Meisterplan MyProjects Apps for Android and iOS.
Prerequisites and Configuration
Only SaaS Supported: The apps can only be used with SaaS systems. On premise systems do not support the apps.

U

sers

with

A

ccess

to

M

eisterplan: The apps allow all Meisterplan users (any access level above Deactivated) to see their personal plan on a mobile device.
Users without Access to Meisterplan: With the Personal plan (only app access) access level, it is possible to give resources access to their plans in Meisterplan without allowing them to actually log in to the main Meisterplan application. Starting with this access level, users may access the Meisterplan Android/iOS apps to view their own projects and allocations. Users cannot edit any data in the Meisterplan Android/iOS apps. Just create a new user with this access level and link the user to the resource used for planning (see next item).
Linking Users with Resources: To give users access to their personal planning in the apps, you must link them with the associated resources under Manage > Users in Meisterplan. To do this, open the account settings of the user and select the desired resource:
Available Languages
The apps are available in English, French and German. If the device language is one of these, the apps will automatically use the device language. On devices using a language other than English, French or German, the apps will run in English.
Downloading the App in the Store
The Meisterplan MyProjects apps for Android and iOS are available in the respective app stores.
Visit the stores to download the apps and for further information:
Revoking the MyProjects App Access
To revoke the MyProjects App access, open your user profile, click Manage Apps and select App Access.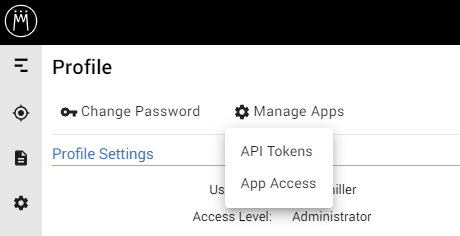 Move your cursor over the MyPRojects entry in the list and click on the trash can icon that appears at the end of the line.