Availability All Editions
The Meisterplan MyProject apps for Android and iOS will be removed from all Meisterplan systems by the end of October 2022. In its place, we will provide a read only overview for every user to see only their work. Learn more here
This article describes configuring and installing the Meisterplan MyProjects Apps for Android and iOS.
Prerequisites and Configuration
Only SaaS Supported: The apps can only be used with SaaS systems. On premise systems do not support the apps.
Only active users: Deactivated users have no access via the apps.
Linking Users with Resources: To give users access to their personal planning in the apps, you must link them with the associated resources under Manage > Users in Meisterplan. To do this, open the account settings of the user and select the desired resource:
Available Languages
The apps are available in English, French and German. If the device language is one of these, the apps will automatically use the device language. On devices using a language other than English, French or German, the apps will run in English.
Downloading the App in the Store
The Meisterplan MyProjects apps for Android and iOS are available in the respective app stores.
Visit the stores to download the apps and for further information:
Revoking the MyProjects App Access
To revoke the MyProjects App access, open your user profile, click Manage Apps and select App Access.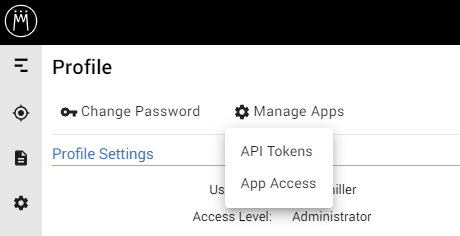 Move your cursor over the MyPRojects entry in the list and click on the trash can icon that appears at the end of the line.