This article gives an overview about the basics of the resource view in Meisterplan.
See the other articles in this section for detailed information about working with the resource view.
Overview of the Resource View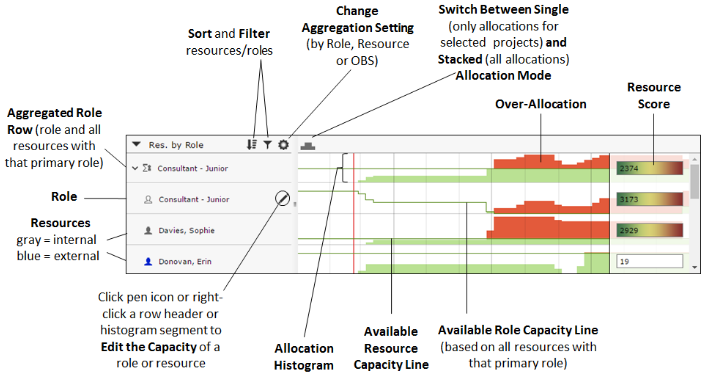 Over-Allocation
Over-allocation of roles and resources will be determined and displayed by week or by month, depending on your zoom level.
Please note:
Weekly over-allocation may not be visible in a monthly view if the over-allocated role or resource isn't over-allocated during the rest of the month. Therefore, always switch to the highest zoom level for a detailed over-allocation analysis.
Until the current week or month is completely over, the full amount of over-allocation will be displayed for that week or month, even though the associated roles and resources may not be over-allocated anymore.
Role Capacity and Capacity Changes
A role's capacity defaults to the sum of capacities of all resources having that role as their primary role.
Via the context menu for a role or via the pencil icon in the associated row header, you may change or reset the capacity of a role.
This will only affect the active scenario or, when working on the plan of record, it will only affect the plan of record.
Please note: If you only work with roles, defining a role's capacity is only possible via capacity change.
Resource Capacity, Absences and Capacity Changes
A resource's capacity is defined by its calendar and calendar exceptions. Please also note the full time equivalent definition, which describes this more precisely.
In the Absences tab of a resource's detail view in the resource pool, you can enter absences (capacity = 0%) and capacity changes (capacity > 0 %) for any period of time.
When working on the plan of record, you may also view and edit resource absences and capacity changes directly in the resource view. To do this, select the Edit Absences option from the context menu for a resource or click the pen icon in her row header.
Resource absences and capacity changes are global: they apply to the plan of record and to all scenarios.
Filtering Projects by Role or Resource
Select a role or resource in the list view on the left.
The project view is filtered to display only projects and programs the selected resource is allocated to.
Click Clear Project Filter on the divider bar to remove the filter.
Alternatively, click anywhere on the white space in the histogram to deselect the selected role or resource.
Role or Resource Trace