This article gives an overview about the basics of the project view in Meisterplan.
Overview of the Project View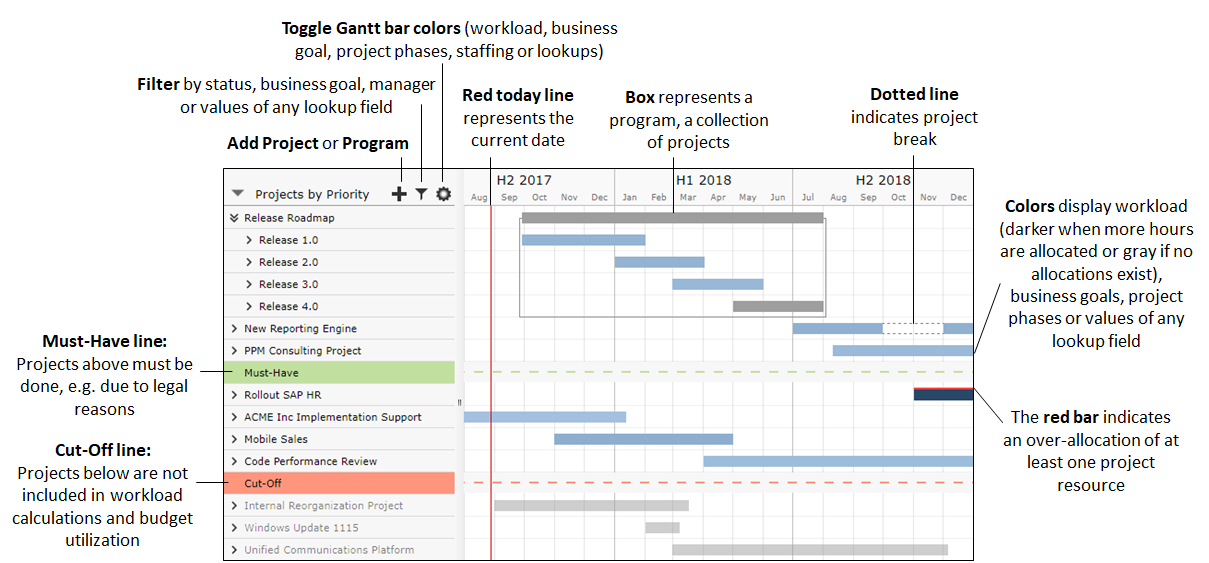 Prioritizing Projects with the Must-Have and Cut-Off Lines
The Must-Have and Cut-Off lines allow you to specify which projects absolutely must be implemented now and which can be considered next.
You may move the Must-Have and Cut-Off lines up and down in portfolios that don't have a project filter and therefore contain all projects in the plan of record or in the active scenario (e.g., the default All Projects portfolio).
At any time, you can reprioritize projects by dragging & dropping project row headers up or down.
Projects with a higher rank schedule resources first as shown in the individual utilization histograms.
Projects with a lower rank tend to hit the resource capacity limit.
Projects below the Cut-Off line are not considered in workload calculations (resource view) and budget utilization (financial view).
Projects can be grouped via programs.
The project ranking, Must-Have and Cut-Off line positions as well as programs are stored individually for each scenario. Changing them in the plan of record won't affect any scenario. Changing them in any scenario won't affect the plan of record or any other scenario.
Filtering Roles and Resources by Project or by Program
Select a project or a program in the left hand side Projects by Priority list or in the Gantt chart.
The resource view will be filtered to display only roles and resources allocated to the selected project or to projects of the selected program.
Click Clear Resource Filter on the divider bar to remove the filter.
Searching Projects
Type the project name in the search box and press [RETURN]. The first project that is found will be selected.
Press [RETURN] again to select the next hit.
Project names are searched from the beginning. Use the asterisk symbol * as a placeholder at the start of your search term to search for a keyword your project name doesn't start with.